Complexica Pty Ltd, a leading provider of Artificial Intelligence software for supply & demand optimisation, announced today that Arnott's Group has selected Complexica's Decision Cloud® software platform for trade promotion management (TPM) to be implemented in 2022. This new contract will extend Arnott's deployment of Complexica's Promotional Campaign Manager (PCM) for Trade Promotion Optimisation and AI-based demand forecasting, both of which kicked-off earlier this year.
"Arnott's is one of Australia's largest producers of biscuits and the diversity of our sales channels adds complexity to our operation – particularly in how we forecast and manage our trade spend, with customer sales data that is varied across sell-out, sell-in, and ex-factory," said Shannon Davidson, Arnott's Director, Commercial & IBP. "We run different product promotion combinations, promo mechanics, and frequencies across our accounts and channels so it's not difficult to understand why we turned to Complexica's best-in-class system for end-to-end Trade Promotion Management and Trade Promotion Optimisation."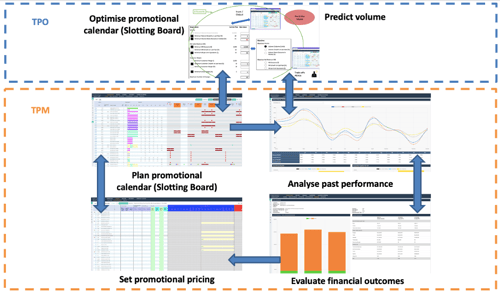 Andrew Ridler, Arnott's Chief Financial Officer, added: "As we continue to build a regional powerhouse of consumer food brands, we're looking to unify and streamline our promotional slotting, joint business planning, in-market execution and payments against different compensation models, which is delivered by this fully integrated TPM system. We've been very happy with the partnership we've developed and the results we've achieved with Complexica since January and look forward to the multiple go-lives scheduled for the coming months."
"We're delighted to expand the relationship with Arnott's beyond Trade Promotion Optimisation and AI-based forecasting" said Leonardo Arantes, Complexica's Director of Business Development. "Given the lack of robust TPM solutions in the market that are also capable of sophisticated TPO functionality, most organisations turn to separate vendors for their TPM and TPO needs. In response to that, we've enabled our Decision Cloud® software platform with full end-end TPM and TPO functionality and will be deploying the complete feature set into Arnott's operation. To accelerate adoption and benefits realization, Complexica's Decision Cloud® software platform will allow different business units – such as Revenue Management, Account Management, Field Sales, Commercial Finance, and Accounts Payable – to carry out their own, individual workflows within a single, integrated environment."
The Arnott's Group is home to several of Australia's most iconic and beloved brands, including Tim Tams, Shapes, Jatz, Tiny Teddies and Wagon Wheels, amongst others. Employing over 2,900 people in markets across Asia Pacific, the Arnott's Group portfolio of brands continues the 155-year legacy of the Arnott family, providing quality, great-tasting food to create delicious moments for consumers across the world. For more information about Arnott's Group, please visit: www.arnotts.com
As part of the Decision Cloud® software platform, Complexica's Promotional Campaign Manager (PCM) provides mission-critical functionality for planning and analyzing retail promotional campaigns, as well as predicting and optimising their effectiveness. The Promotional Campaign Manager (PCM) uses internal and external data to provide practical decision support for promotional activities, as well as:
Replace home-grown spreadsheets with a cloud-based system that provides multi-user access to centralised slotting boards, forward plans, and dashboard analytics
Provide predictive capabilities to forecast and measure the value of plans based on volume, revenue, and margin predictions
Provide optimisation capabilities to produce optimised promotional plans based on a variety of constraints and objectives (for example maximising margin in one territory while not decreasing revenue in others)
Automate data loading, handling, and manipulation
Promotional Campaign Manager (PCM) is powered by Complexica's award-winning AI engine – Larry, the Digital Analyst® – which is based on the latest advances in Artificial Intelligence and Machine Learning methods and techniques.
In other recent news, Complexica was named one of Australia's Top 20 Tech Companies, announced a $5 million investment from MAM in equity growth capital, and appointed a new Chief Financial Officer and Director of FMCG