Complexica provides AI-based software applications for optimising sales & marketing activities, ranging from promotional planning, pricing, and product mix, through to sales force automation, CRM, and guided selling, in-field quoting and order processing:
Our software applications are cloud-based and powered by our proprietary computational engine – Larry, the Digital Analyst® – which is based on a variety of smart and adaptive algorithms.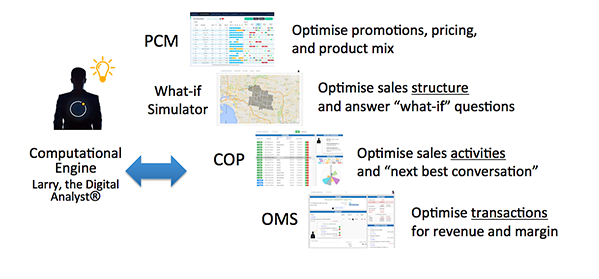 The focus of our software applications is to provide automated "answers" and "insights" to the people who need them – from executives and divisional managers, right down to sales reps in the field – at the exact moment they need them. In particular, we are focused on automating and optimising the answers to the following questions:
What product and categories should we promote? when? where? at what price?
How can we optimise our sales structure? marketing investments?
What customers and prospects should we be calling on? with what message?
What is the "next best conversation" or "next best offer" for each individual customer?
What value-adding insights can we provide our customers?
How can we maximise the revenue and margin of each transaction?
How can we help our sales team sell more at a higher margin through guided selling?
By automating the data collection and analysis required to answer such questions, Larry, the Digital Analyst® can provide your organisation with real-time answers at a fraction of cost of human experts. To learn more about our AI-based software applications for optimising sales & marketing activities, please contact us