Complexica Pty Ltd, a leading provider of Artificial Intelligence software for optimising sales, marketing, and supply chain decisions, announced today that it has signed a contract with Pernod Ricard Winemakers for the AI Foundations project, which will deliver advanced Artificial Intelligence and machine learning capabilities to various supply chain and production functions within Pernod Ricard Winemakers. The project is a significant investment, establishing a long-term partnership which will transition Pernod Ricard Winemakers' operation away from paper, whiteboard, and spreadsheet-based systems, towards Complexica's cloud-based applications for planning, scheduling, and push/pull optimisation.
"After conducting an evaluation and assessment process earlier this year, we have selected Complexica as our vendor of choice for our AI Foundations project, which will seek to optimise our business performance, by enhancing decision making and improving our ways of working, while making work safer for our employees," said Brett McKinnon, Global Operations Director at Pernod Ricard Winemakers. "We wanted to partner with an organisation that could provide global thought leadership on applied Artificial Intelligence – particularly in areas such as global optimisation and multi-objective optimisation – and had a deep appreciation of winemaking production processes, and the inherent complexities that exist within supply chains. We found that partner in Complexica and look forward to working together in the years ahead."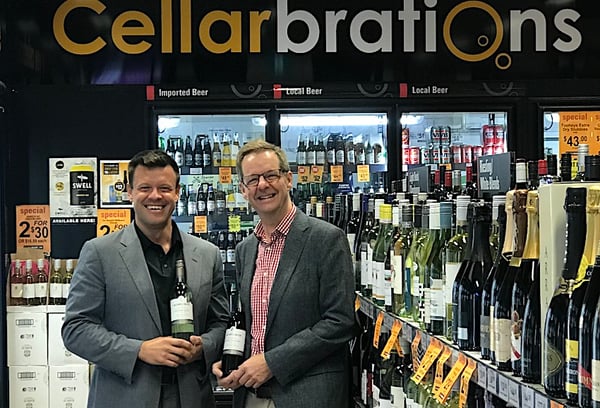 Matt Michalewicz, CEO of Complexica, with Simon Ekblom, Program Manager of the AI Foundations Project for Pernod Ricard Winemakers
Pernod Ricard Winemakers is the premium wine division of Pernod Ricard and boasts one of the world's most diverse portfolios of premium wines such as Jacob's Creek in Australia, Brancott Estate in New Zealand, Campo Viejo from Spain and Kenwood Vineyards & Mumm Napa in California. Pernod Ricard Winemakers employs more than 1,700 people and sets the benchmark in winemaking through innovation, craftsmanship and authenticity. For more information please visit: http://www.pernod-ricard-winemakers.com
"Optimising supply chain decisions across multiple operating sites and time horizons is a difficult and complex undertaking, but one that can drive significant benefits in areas such as asset utilisation, volume throughput, quality, and working capital requirements," said Matt Michalewicz, CEO of Complexica. "Applying Artificial Intelligence software to such challenging problems is our core competency as a business, and we look forward to working with Pernod Ricard Winemakers to realise the end-state vision of optimised decision-making across their end-to-end supply chain."
Simon Bennett, IT Director of Pernod Ricard Winemakers, added: "Complexica have a deep knowledge of Data Science and this partnership will create a project team with the perfect blend of internal and external expertise which we will use to accelerate the use of Artificial Intelligence and Machine Learning to drive operational efficiency. We look forward to working with Matt and the Complexica team."
Read more in the Advertiser article