Effective sales reps are those who perform customer research and analysis when building call plans, rather than blindly calling on the same set of customers and prospects. They have the analytical skills to answer the ongoing question of "Where are my best opportunities? where are the biggest problems?" In particular, effective sales reps are able to:
Identify and target high-value customers

and prospects based on "share of wallet" or "size of opportunity" estimates and prioritise them in the call planning process
Generate value-adding insights

they can share with customers to improve their business
Identify the right mix of products and services

for each customer's individual needs, characteristics, and circumstances
Create bundled pricing for win-win outcomes (often meaning that low-margin items are bundled with higher-margin items)

Unfortunately, most sales reps don't have the time or analytical skills to conduct such research and analysis, meaning that:
The best opportunities are not identified or targeted during each call cycle
Prospective customers don't get enough value from their interactions with sales reps
Offers and pricing are generic rather than personalised
As a result, sales effectiveness suffers and the yield on sales resources becomes subpar. Complexica's Sales Accelerator & Multiplier module of Decision Cloud® can help you address these challenges by analysing your customers and prospects in real-time – including sales volumes, social media activity, service levels, and more – to identify opportunities or problems as they emerge.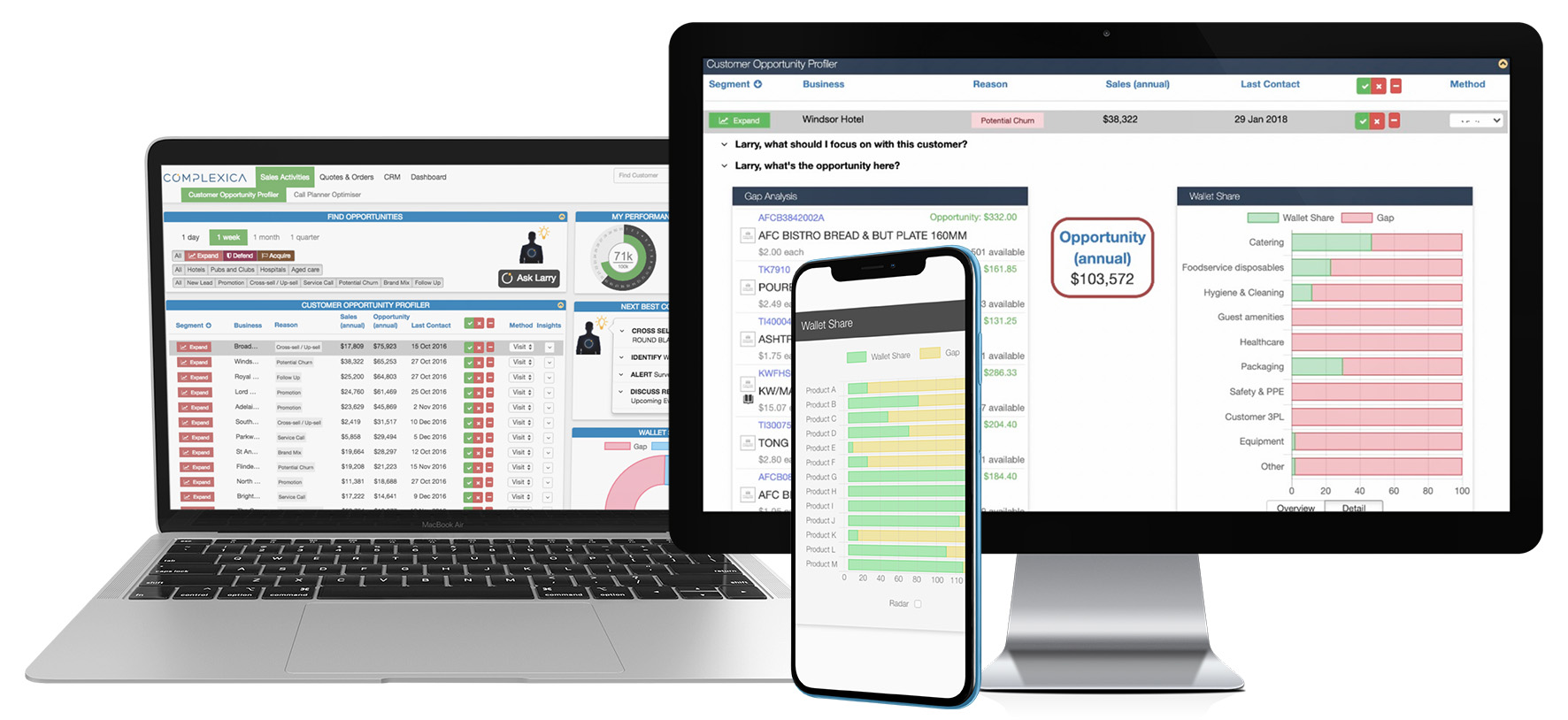 Through a continuous analysis, Sales Accelerator & Multiplier (SAM) provides each salesperson with dynamic recommendations on who to visit, along with personalised Next Best Conversations™ and value-adding insights for each call:
To explore how Complexica's Sales Accelerator & Multiplier (SAM) can increase sales effectiveness and productivity, improve customer engagement, and move the needle on critical revenue and margin KPIs, please contact us
Read how DuluxGroup optimises the effectiveness and productivity of sales staff
Discover how Polyaire optimises sales activities
Learn how Dulux Powder Coatings is improving customer engagement with better sales conversations and improved customer profiling