Given that a 1% increase in price can deliver a disproportionate increase in margin, it's critical for businesses to optimise their pricing – particularly in low growth countries where opportunities for revenue and market share growth are limited. Research shows that by aggregating, overlaying, and analysing various data sets - including sales, market intelligence, competitor information, and more – organisations can effectively optimise pricing and margin. The problem however, is the amount of data analysis that's required.
As an example, imagine stocking 10,000 different SKUs for 10,000 different customers, and trying to determine a margin-optimised price for each individual SKUs for for each individual customer. It's an impossible task without the use of sophisticated technology. Despite the inherent difficulty of this analysis, pricing that is individualised or based on specific customer segments (rather than "one-size-fits-all" strategies) can significantly improve financial performance.
Complexica's Order Management System (OMS) can dynamically determine margin-optimised pricing for each product and customer (adjusted for volume and geography). Sales staff are provided with dynamic "price guides" during the quoting and order taking process, so they can maximise margin and the odds of winning the business. Our Order Management System (OMS) is a module of Decision Cloud® and relies on a variety of elasticity and cross-elasticity algorithms, as well as sophisticated machine learning techniques to understand buying behaviour and pricing, before recommending the right product to the right customer at the right price.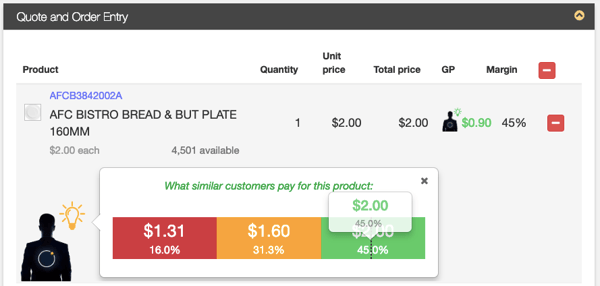 To explore how Complexica's Order Management System (OMS) can help you generate "margin-optimised" quotes and orders within call centres, in-field selling environments, and e-commerce portals, please contact us.
Discover how Bunzl is using Complexica's Order Management System (OMS) and Larry, the Digital Analyst® to optimise the value of each quote and order
Learn how Coventry Group is optimising the value of quotes and orders through the use of Complexica's Order Management System (OMS)