Considering that trade spend accounts for almost 25% of the marketing budget for consumer product companies, and 20% of revenue for FMCG companies, it's critical to optimise retail promotional activities and trade spend allocation. And yet, despite this enormous level of investment, most manufacturers and retailers don't optimise their trade spend or even measure their promotional effectiveness. In most cases, the common practice is to take last year's promotion plans and tweak them without identifying ways to improve or optimise, and at times trying to force old plans to solve new problems.
Due to the inherent complexity of the process, most companies use home-grown spreadsheets and ad-hoc reports for promotion planning and trade spend allocation, resulting in common problems such as:
Manual handling and manipulation of data from a variety of sources, leading to data integrity issues and substantial time inefficiencies

Significant time, expertise, and labour required to analyse just a few scenarios and determine their effectiveness, making it impractical to conduct a comprehensive analysis to find a truly optimised plan or allocation

Inability to generate optimised promotional plans in a way that maximises category growth and product penetration

Inability to drive volume and margin predictions within markets

Inability to collect and take advantage of competitor data

Inability to measure the effectiveness of promotional activities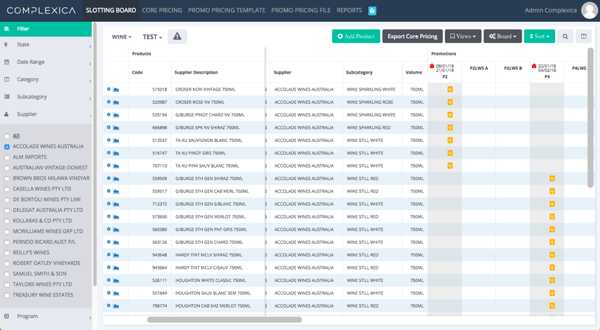 We can help you address these commonplace problems through Complexica's Promotional Campaign Manager (PCM), which provides robust and easy-to-use planning, analysis, prediction, and optimisation capabilities. Apart from increasing product visibility and raising brand awareness, PCM can help your business grow a category and differentiate a product.
Watch a complimentary video to Chapter 3: Promotional Planning and Pricing of our new book The Rise of Artificial Intelligence
Discover why Metcash chose Complexica's Promotional Campaign Manager (PCM) to manage and optimise promotional planning for its 2,700 retail stores
Read how Liquor Marketing Group is increasing the promotional effectiveness and financial outcomes achieved by 1,400 retail stores
Lion selects Complexica's Promotional Campaign Manager for AI-driven Trade Promotion Optimisation
Learn why Arnott's Group selected Complexica for trade promotion optimization and AI-based forecasting
To explore how Complexica can improve your promotional planning process and optimise trade spend, please contact us