Customer churn (also known as attrition, turnover or defection) occurs when a customer stops buying from a business for one reason or another. Staying on top of customer churn is an essential requirement for any company, but one that is becoming increasingly difficult due to modern-day customers being more knowledgeable, educated, and demanding than ever before, with more choices in the marketplace to satisfy their needs.
Although defining and predicting customer churn might appear straightforward – involving the creation of predictive models capable of identifying customers at risk of churn and then targeting them with specific offers or increased service levels – there is no "one-size-fits-all" approach to the problem and a significant amount of data analysis is required to get a satisfactory result. Rather than taking the traditional data science approach of creating custom, discrete models – which are often static and disjointed from the customer service workflow – Complexica addresses this problem through an integrated and automated approach.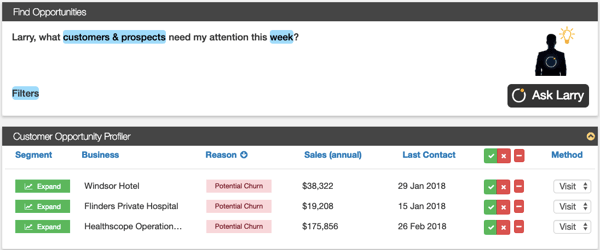 Complexica's Customer Opportunity Profiler (COP) uses internal and external data sets to analyse customer activity on an ongoing, continuous basis – including purchasing trends & behaviour, service issues, social media activity, multi-channel interactions, and more – to identify potential problems as they emerge (as well as new opportunities, such as cross-selling & up-selling). Through this integrated, continuous analysis, our Customer Opportunity Profiler (COP) can automatically identify customers at risk of churn, and provide customer service staff with Next Best Conversation™ recommendations that can significantly reduce attrition and enable personalised cross-selling & up-selling.
To explore how Complexica's Customer Opportunity Profiler (COP) can increase customer engagement and reduce churn, please contact us