Employing almost 100 staff across 4 offices, Complexica is a leading provider of Artificial Intelligence software applications that can optimise sales, marketing, and supply chain decisions. Our investors include Acorn Capital, Flinders Ports, MA Financial Group (ASX:MAF), Microequities Asset Management (ASX: MAM) and Perennial Partners. We were founded upon the research of several world-renowned computer scientists, and have commercialised a modularised software platform called Decision Cloud® that empowers staff across multiple business functions to make better decisions. Decision Cloud® is powered by our award-winning Artificial Intelligence engine Larry, the Digital Analyst®: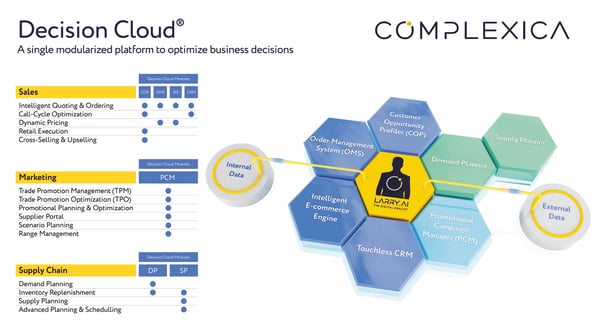 Our mission is to help companies become more effective in their sales and marketing and more competitive in the markets they serve, through optimised decision-making.
Our vision is to become a world leader in the practical application of Artificial Intelligence software. As we grow and expand, our goal is to achieve a global presence and trade on the ASX stock exchange as a publicly-listed company that represents a major part of the Australian business landscape.
We are committed to delivering great products and services to our customers: Complexica scored a highly recommended 97.18% in customer satisfaction in the 2021 Australian Achiever Awards for Australia's Computer Systems, Software & Internet Services category.
We maintain research partnerships with the Polish-Japanese Academy of Information Technology, the University of Adelaide, and RMIT University, and also have a Scientific Advisory Board that includes international thought leaders in the area of Artificial Intelligence. Our enterprise software employs techniques from a range of fields, including deep learning, predictive analytics, machine learning, Artificial Intelligence, simulation and big data analytics to solve complex business problems and deliver value.
To learn more about what Artificial Intelligence is and how it works, please watch our introductory AI video: www.complexica.com/riseofai/chapter1
Please click here to download the company factsheet
Larry, the Digital Analyst® named the 2018 Australian Innovation of the Year
Complexica wins the 2019 Australian Business Award for Software Innovation
Complexica is Named one of Australia's Top 20 Tech Companies
Complexica Scores a Highly Recommended 97.18% for Customer Satisfaction in the Australian Achiever Awards