Complexica is an Australian company specialising in enterprise software applications that harness the power of Artificial Intelligence and big data to improve the effectiveness of sales & marketing activities, particularly for wholesalers, distributors, and manufacturers characterised by a large SKU range and long tail of customers. We were founded upon the research of several world-renown computer scientists, and have developed a proprietary Artificial Intelligence engine called Larry, the Digital Analyst® that powers our enterprise software applications: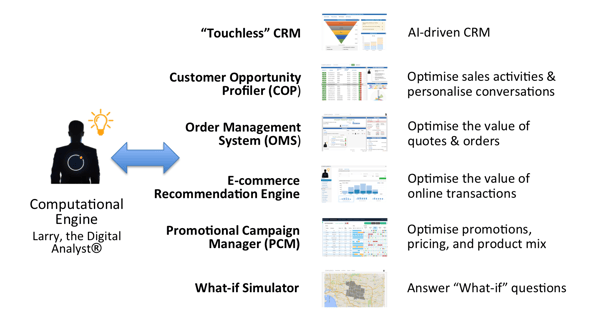 We maintain research partnerships with the Polish-Japanese Academy of Information Technology, the University of Adelaide, and RMIT University, and also have a Scientific Advisory Board that includes international thought leaders in the area of Artificial Intelligence. Our software applications employ techniques from a range of fields, including deep learning, predictive analytics, machine learning, artificial intelligence, simulation and big data to solve complex business problems and deliver value.
Please click here to download the company factsheet.