The challenge facing all marketers is how to optimise their company's marketing mix & media spend to achieve the greatest possible return on investment. This involves answering a variety of complex questions, such as:
How should the budget be allocated geographically and across various marketing elements?
What is the optimal timing and level of advertising?
Where is the point of diminishing returns for various media?
What is the optimal pricing strategy?
What is the effectiveness and impact of various campaign types?
Such questions require continuous analysis to understand which campaigns are effective (and lead to an increase in brand awareness, leads, and/or new customers), versus those that cost too much and yield poor results. With marketplace conditions in constant flux and new marketing sources emerging, marketers find it increasingly difficult to analyse and optimise their marketing spend on an ongoing basis – to say nothing of analysing and predicting the interplay between various sources, channels, campaigns, and products.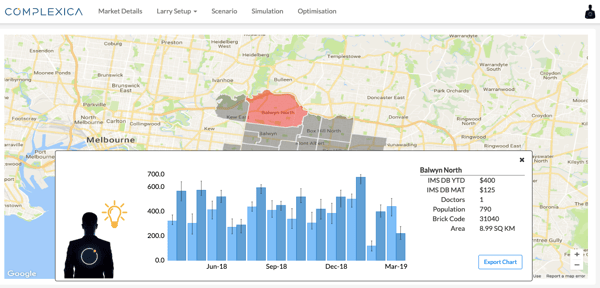 Although the relationship between each marketing source and the dynamics of the environment can be experimentally studied through trial and error, such an approach is costly and sub-optimal. A solution to this business challenge is the application of simulation & optimisation models to accurately predict the result of any given marketing campaign, scenario, or strategy – in effect, enabling the mantra of "know before you act". Based on a combination of internal and external data sets, Complexica's What-If Simulator & Optimiser can help you:
Optimise market spend for both digital and non-digital sources
Predict the total leads, cost per lead, and sales for any given marketing campaign, scenario, or strategy
Predict the total budget required to generate a set number of leads or sales volume
Improve the return on marketing investments by identifying the point of diminishing returns for each marketing source
Reduce the cost per lead for each marketing source
Understand the impact of threshold and lagged effects
To explore how Complexica's What-If Simulator & Optimiser can optimise your marketing mix and media spend, please contact us
Discover why Australian Outdoor Living (AOL) decided to deploy Complexica What-if Simulator & Optimiser for marketing mix & media spend optimisation