Cross-selling and up-selling is responsible for anywhere between 10% - 30% of e-commerce revenue, according to Forrester research. Cross-selling attempts to sell a complementary product or service (e.g. offering a printer to customers buying a computer), while up-selling attempts to sell a more expensive version of the same product (e.g. offering a faster, more powerful computer). However, superior results can't be achieved by making generic offers or pushing products without concern for fit or need. Customers know when you're trying to squeeze more from their wallet, and irrelevant offers end up decreasing their engagement.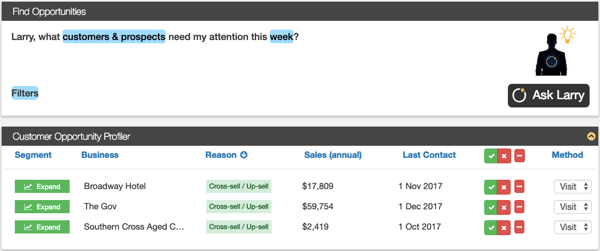 Cross-selling and up-selling is most effective when customers are provided with targeted "just for me" offers, which are personalised to their specific needs and characteristics. The challenge in generating these types of personalised offers is the amount of data analysis required to decide:
What specific products or services to recommend? to what customers?

What products to recommend together? at what price?

What is the next product the customer will look for?
Complexica's Order Management System (OMS) and E-commerce Recommendation Engine – both powered by Larry, the Digital Analyst® and modules within our Decision Cloud® platform, – can serve up dynamic and personalised cross-sell and up-sell recommendations in your B2B or B2C selling environment.
Based on self-learning algorithms that automatically update in real-time, our software applications "self-tune" to create improvements in the conversion rate and average order value, as well as the customer shopping experience.