Our mission is to help companies become more effective in their sales and marketing and more competitive in the markets they serve, through optimised decision making.
Our vision is to become a world leader in the practical application of Artificial Intelligence software. As we grow and expand, our goal is to achieve a global presence and trade on the ASX stock exchange as a publicly-listed company that represents a major part of the Australian business landscape.
We are committed to delivering great products and services to our customers: Complexica scored a highly recommended 97.18% in customer satisfaction in the 2021 Australian Achiever Awards for Australia's Computer Systems, Software & Internet Services category.
Our Competitive Differentiators
Proven track record
Complexica has successfully delivered countless software projects and deployments, using project management methodologies that allow for on-time and on-budget delivery. We have considerable experience working with some of the world's largest companies and organisations on projects that involve large data sets, challenging optimisation and prediction requirements, and complex system integrations and operational workflows. Some of our customers include well-known names like Metcash, DuluxGroup, Pernod Ricard, Bunzl, PFD Foods, LMG, Lion, Costa Group, and Asahi among others.

Exact-fit software
Most Commercial-Off-The-Shelf (COTS) software applications for managing supply & demand activities are unable to handle customer-specific requirements, such as variable and calendarized constraints, negative stock values, non-linear relationships, complex business rules set in time-changing data environments, and non-standard business processes and workflows, among others. We understand that the only business important to you is your business, so we've engineered our Decision Cloud® software platform to be flexible enough to ensure that the software fits your organisation by configuring each deployment to your unique business requirements, processes, and workflows

World-class science for decision optimisation
Scientific expertise runs across all levels of Complexica and we maintain research partnerships with leading research institutions such as the University of Adelaide, RMIT, and the Polish-Japanese Institute of Information Technology. We are thought leaders and pioneers in applied Artificial Intelligence, and our staff has published over 300 peer-reviewed articles and 25 books on the subject of predictive analytics, optimisation, and self-learning systems, which have been cited by more than 70,000 authors. Our Artificial Intelligence engine, Larry, the Digital Analyst® was named the 2018 Australian Innovation of the Year, the 2019 Australian Software Innovation of the Year, and the 2020 Business Innovation and Digital Transformation of the year.
To learn more about what Artificial Intelligence is and how it works, please watch our introductory AI video: www.complexica.com/riseofai/chapter1
Measurable results
Our mission is to help you realise measurable improvements in areas such as revenue, margin, operational costs, forecast accuracy, asset utilisation, working capital, as well as effectiveness in sales, pricing, and promotional planning. To that end, we work with each customer to provide ongoing validation of our software and the resulting benefits.

A unique combination of science, software, and business process understanding
Addressing complex business problems effectively requires a combination of science, software, and business process understanding. This is because scientific approaches such as Machine Learning have the potential to create value through better decisions. However, to realise this business value, these science-driven recommendations must be embedded and actioned within your operational workflows. This requires deploying enterprise software that is tuned to your specific industry, company, and business processes. Most companies excel in one or two of these areas – science, software, or business process understanding – but we focus on the combination of all three: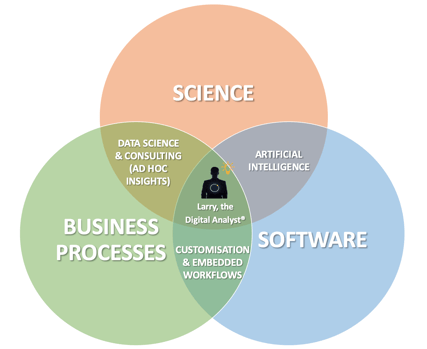 Science
Leading-edge, AI-based prediction and optimisation capabilities
Many traditional data mining and modelling methods are often less than ideal for finding non-linear relationships and counter-intuitive trends, and for analysing vast quantities of data in real-time. For these reasons and others, Complexica's Artificial Intelligence engine – Larry, the Digital Analyst® – employs both classical and non-traditional methods, including several new branches of Artificial Intelligence and Machine Learning. By combining different techniques, Larry, the Digital Analyst® automatically adjusts and self-validates in any time-changing environment and is especially well suited for large and fast-moving data sets. A similar approach is used for optimisation, where multiple techniques simultaneously compete and cooperate with one another, producing superior results with respect to standard optimization methods. Larry, the Digital Analyst® is easily linked to any objective function, can be extended to include domain-specific and user-provided algorithms and modifiers, and was named the 2018 Australian Innovation of the Year and the 2019 Australian Software Innovation of the Year.
To learn more about what Artificial Intelligence is and how it works, please watch our introductory AI video: www.complexica.com/riseofai/chapter1
Automated use of external data sets to improve performance
Through the use of advanced Artificial Intelligence algorithms and automated APIs, Complexica's Artificial Intelligence engine – Larry, the Digital Analyst® – can access a vast array of external data sources (both structured and unstructured, such as internet data scraped from relevant websites), and analyse these datasets along with internal customer data to provide superior performance and decision recommendations. For example, Complexica's Sales Accelerator and Multiplier (part of our Decision Cloud® software platform) can provide highly-personalised Next Best Conversation™ or Next Best Action recommendations for each sales call or visit by combining internal and external data together to develop a superior view of the market and each customer
Self-learning "AI as a service"
Complexica's Larry, the Digital Analyst® hosts a range of pre-configured Artificial Intelligence algorithms that are tuned for specific business challenges, such as pricing, segmentation, cross-selling and up-selling, promotional planning, and demand forecasting, among others. The algorithms are constantly learning and their performance is continuously monitored to identify and correct any unintended consequences of algorithmic bias and the time-changing environment they operate in.
Software
Reduced risk
Our Decision Cloud® software platform is implemented through staged and scalable deployments, rather than "big bang" implementations to minimize risk for your organization and accelerate return on investment. All of our software projects are quoted at a fixed price and time-line deployments, with responsibility for any cost overruns
Agile delivery model
Our delivery model is based on Agile principles, and we strive to be responsive to customers at all stages of a project. Our business model is based on the successful use and adoption of each software deployment, making your success, our success
Integrability
Complexica has developed a set of standard integration APIs for our Decision Cloud® software platform for common ERP systems and platforms, as well as public data sources such as the Australian Bureau of Statistics, Bureau of Meteorology, among others
Data security
Complexica's Decision Cloud® software platform is deployed through Amazon Web Services (AWS). Our customers benefit from the data centre and network architecture built to meet the requirements of the most security-sensitive organisations. In addition, we follow best-practice security standards aligned to the globally recognised standard ISO27001. Complexica has achieved ISO27001 certification, recognising its commitment to providing customers with the highest level of information security management. Following an extensive audit process, the certification was issued by TQCSI International, an accredited, third-party certification body providing auditing and certification of international management system standards with offices in more than 30 countries.
Ongoing support
All our software deployments include ongoing support with a service plan tailored to your needs.
Business Process Understanding
Domain knowledge
We have significant domain-specific knowledge and expertise within a number of industry verticals, including food & liquor, building materials, pharmaceuticals, wholesale & distribution, financial services, consumer goods, and retailing. We also understand the operational business challenges, processes, and workflows within these industries. Our experienced and dedicated Business & Data Analysis team brings this domain knowledge and business process understanding to every customer engagement.

Business process and workflow mapping and re-engineering
Complexica is a customer-centric organisation that is focused on providing commercial outcomes through the use of Artificial Intelligence software. For this reason, our Business & Data Analysis team spends time with each customer to understand the operational aspects of the business and any unique elements of the challenge or business problem being addressed. From this point, a current and future state is defined, and our Decision Cloud® software platform is configured and tuned to the future state business processes and workflows.
Processes and task automation
Many organisations have a large number of manual processes which take significant time and labour to manage. These processes can be automated through approval workflows, embedded recommendations, and autonomous decision-making. For example, Complexica's Touchless CRM (part of our Decision Cloud® software platform) can increase the productivity of a field sales team by automating manual tasks and reducing non-selling time. As sales staff executes their daily activities, the software monitors their plans, tasks, and visits, and automatically updates the appropriate customer record.
Digitalisation
Many large organisations use a patchwork series of spreadsheets, unintegrated tools and non-standardised manual processes to execute mission-critical activities, which creates inefficiencies and hampers agility. While streamlining processes is always a significant effort, the benefits begin accruing immediately and Complexica has significant experience digitalising business processes, and creating future-state digital strategies. In 2020, Complexica was named winner of The Australian Business Awards for Business Innovation and Digital Transformation categories demonstrating the core values of business innovation, product innovation, and technological achievement.
How we work
Complexica has a well-defined client engagement model that progresses through the following stages: