Complexica's intelligent Order Management System (OMS) is part of our Decision Cloud® software platform, and can generate "margin-optimised" quotes and orders within call centres, in-field selling environments, and online portals. Powered by Larry, the Digital Analyst®, our Order Management System (OMS) can help you:
Enable omni-channel quoting & order taking through in-field, call centre, and portal deployments
Improve "average margin per order"

through dynamic and optimised pricing

recommendations

during the quoting process. By

analysing

price variations for each combination of product, customer type, geography, and volume

, sales reps are provided with "best" and "acceptable" prices for each product/customer combination
Improve "average revenue per order"

through

dynamic cross-selling & up-selling recommendations that are specific to each customer type and geography
Reduce "non-selling time" of sales staff by

automating the necessary research and analysis to understand how customers are trending, what they're likely to buy, in what quantity, and at what price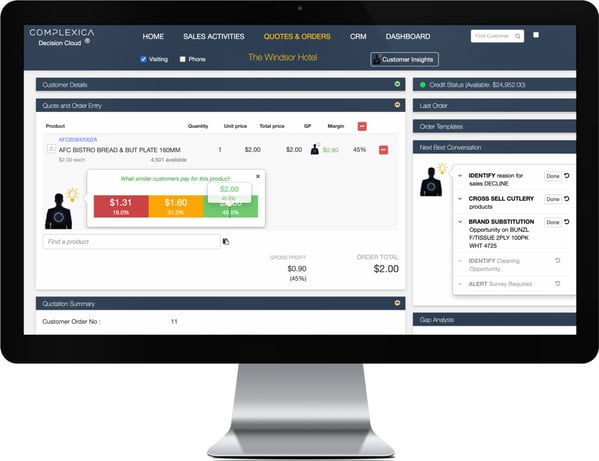 DOWNLOAD Order Management System (OMS) specification sheet
Based on self-learning algorithms that automatically update in real-time, our Order Management System (OMS) "self-tunes" to create improvements in the conversion rate and average order value. Complexica's Order Management System (OMS) also provide sales staff with advanced analytics to understand customer profitability and potential value, as well as guide-selling recommendations to maximise margin, basket size, and share of wallet.
To explore how Complexica's intelligent Order Management System (OMS) can help you improve margin, basket size, and share of wallet, please contact us
Discover how Bunzl is using Complexica's Order Management System (OMS) and Larry, the Digital Analyst® to optimise the value of each quote and order
Learn how Coventry Group is optimising the value of quotes and orders through the use of Complexica's Order Management System (OMS)
Find out how Haircare Australia is providing maximum value and service to its customers