Complexica's Customer Opportunity Profiler (COP) is part of our Decision Cloud® software platform. COP optimises sales call cycle by providing sales staff with data-driven recommendations on what customers & prospects to visit and what personalised conversations to deliver.
Powered by Larry, the Digital Analyst®, our Customer Opportunity Profiler (COP) can help:
Increase yield on sales resources by directing sales staff to the highest-value opportunities or potential problems in each territory
Reduce customer churn

by automatically

identifying customers at risk of potential churn
Increase weekly number of sales calls by optimising journey plans and automating pre-call reports
Increase share of wallet

by automatically estimating the opportunity value of each customer and identifying cross-sell opportunities

Personalise customer conversations by providing sales staff with Next Best Conversation™

or

Next Best Action recommendations for each call or visit
DOWNLOAD Customer Opportunity Profiler (COP) specification sheet
Complexica's Customer Opportunity Profiler (COP) monitors all your customers & prospects in real-time – including their sales volumes, social media activity, complaints, service levels, and more – to identify opportunities or problems as they emerge. Through this continuous analysis, our Customer Opportunity Profiler (COP) can direct sales staff to the largest opportunities or problems in each territory, and arm them with personalised messages andvalue-adding insights for each call.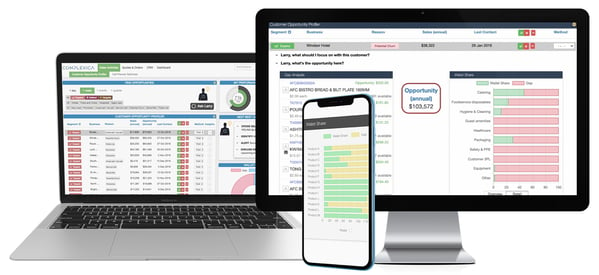 COP sits within the "targeted AI" approach for optimising sales activities. This approach enables optimised recommendations that are targeted to specificindustries, processes, and use cases (as opposed to the generic nature of recommendations from a "mass AI" approach). As an example of this granularity, Complexica's Customer Opportunity Profiler (COP) can generate detailed, sales-rep-specific Next Best Conversations™ (NBCs) that are tuned to the exact nature of a business, its customer base, product range, pricing structure, competitive position in the market place, and more.
Examples of NBC prompts across different industries include:
What product to sell?

What promotional bundles to offer?

Which customers are likely to churn?

Which customers to visit this week?

What product/categories to focus on?

What products to re-price for which customers?

Complexica's approach to using Targeted AI can generate the most value through:
Improving revenue and margin outcomes for field sales through the automated identification of sales opportunities within each territory

Predicting and preventing customer churn

Increasing customer share-of-wallet through personalised cross-selling & up-selling recommendations

Reducing lost sales through product substitution recommendations
Sales call cycle workflow with Complexica's COP

Complexica's COP can be deployed as either a "lite" solution that includes all the essential features for sales call cycle optimisation, or as a more advanced solution depending on customer needs: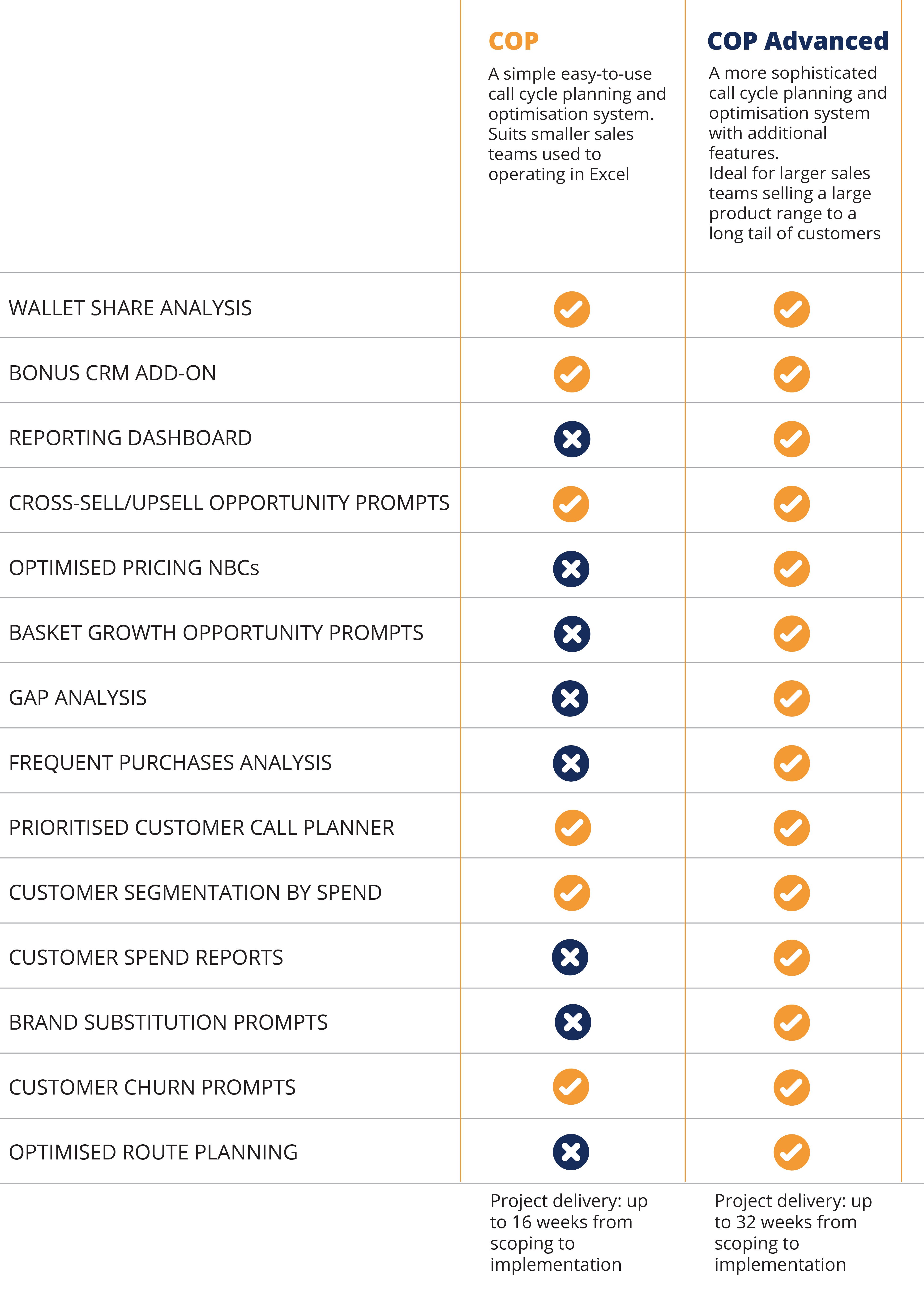 To explore how our Customer Opportunity Profiler (COP) can help you build greater engagement with customers & prospects, increase sales productivity, and reduce customer churn, please contact us
Read how DuluxGroup is using Complexica's Customer Opportunity Profiler (COP) to optimise the effectiveness and productivity of sales staff
Learn how building materials giant CSR is using Complexica's Customer Opportunity Profiler (COP) within its in-store network
Read about SodaStream's deployment of Complexica's Customer Opportunity Profiler (COP) for in-field retail execution
Discover why Polyaire selected Complexica's Customer Opportunity Profiler (COP) to optimise sales activities