Complexica Pty Ltd, a leading provider of Artificial Intelligence software for supply & demand optimisation, announced today that it has signed a contract with DuluxGroup to deploy Complexica's Customer Opportunity Profiler (COP) into the Powder & Industrial Coatings business unit for national use by account managers.
"Dulux is the market leading powder coatings supplier across Australia and New Zealand, offering the widest range of premium powder coating products alongside technical innovation and environmental performance", said Luke Mathers, National Sales Manager, Dulux Powder & Industrial Coatings. "We service a diverse mix of customers, operating under different business models and with different needs for our products. This adds complexity to the many different types of conversations our account managers have in the field and can present challenges to proactively address opportunities in each territory. Given the rise of Artificial Intelligence in recent times, we have partnered with Complexica to help us automate the identification of opportunities and risks and recommend prioritised actions."
"The deployment of Complexica's Customer Opportunity Profiler (COP) for Dulux Powder & Industrial Coatings will drive better conversations, overall opportunity profiling, and targeted growth in specific segments," said Leonardo Arantes, Director of Business Development at Complexica. "We look forward to supporting the teams at Dulux with their established and accredited customers, as well as growing their footprint within other target customer groups".
DuluxGroup is a leading marketer and manufacturer of some of Australia's most recognised and leading brands, across paints, coatings, sealants, adhesives, garden care and other home improvement product categories. With origins dating back to 1918, the company is committed to helping consumers to imagine and create better places and spaces in which to live and work. DuluxGroup generates annual revenues in excess of $1.7 billion and employs approximately 4,000 people across Australia, New Zealand, Papua New Guinea, South East Asia, China, Europe and the United Kingdom. For more information about DuluxGroup, please visit: www.duluxgroup.com.au
Complexica's Customer Opportunity Profiler (COP) is part of our Decision Cloud® software platform, and can provide sales staff with optimised recommendations on what customers & prospects to visit, what personalised conversations to deliver, and what journey plan to use.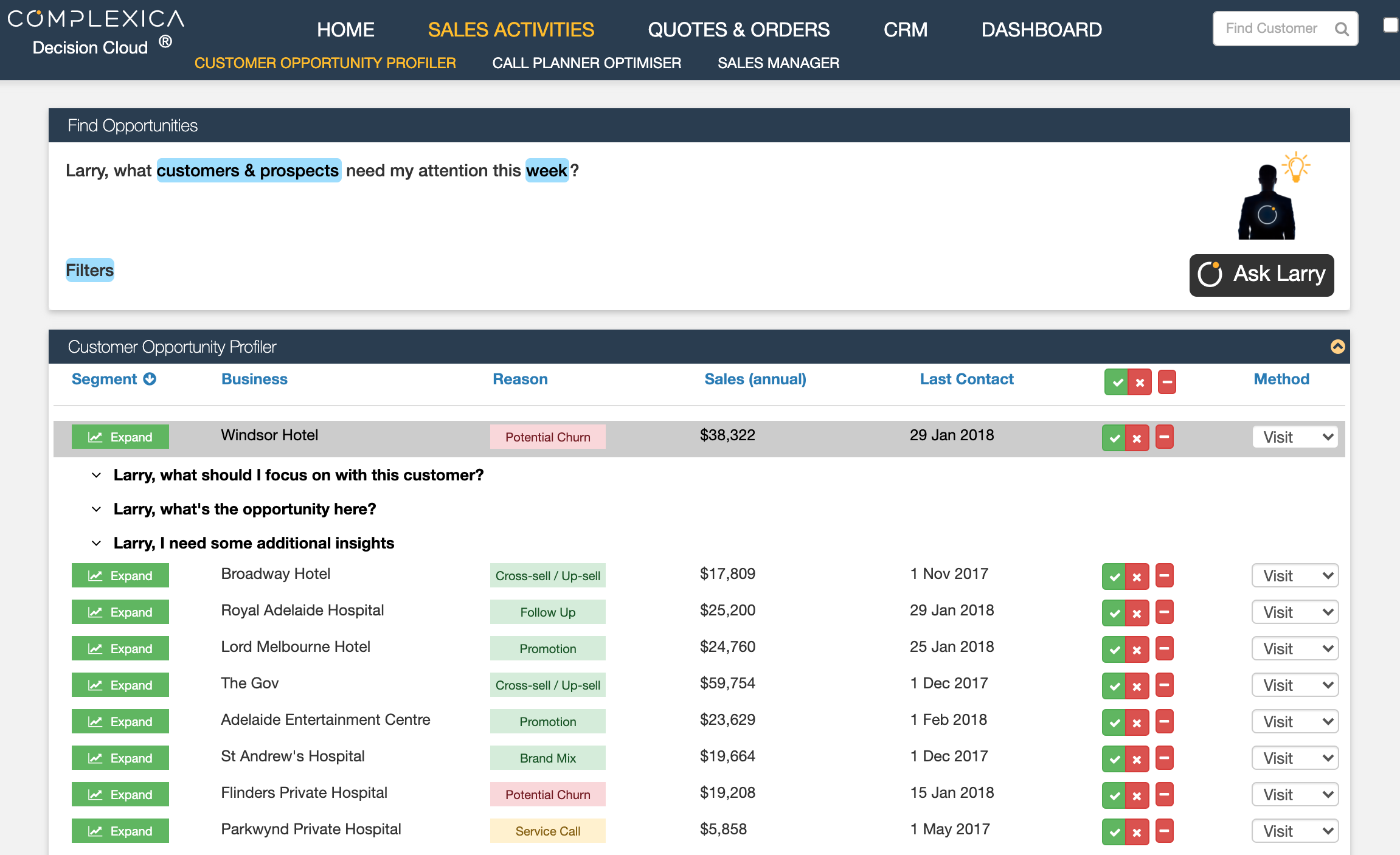 Powered by Larry, the Digital Analyst®, Complexica's Customer Opportunity Profiler (COP) can help:
Increase yield on sales resources by directing sales staff to the highest-value opportunities or potential problems in each territory
Reduce customer churn

by automatically

identifying customers at risk of potential churn
Increase weekly number of sales calls by optimising journey plans and automating pre-call reports
Increase share of wallet

by automatically estimating the opportunity value of each customer and identifying cross-sell opportunities

Personalise customer conversations by providing sales staff with Next Best Conversation™

or

Next Best Action recommendations for each call or visit