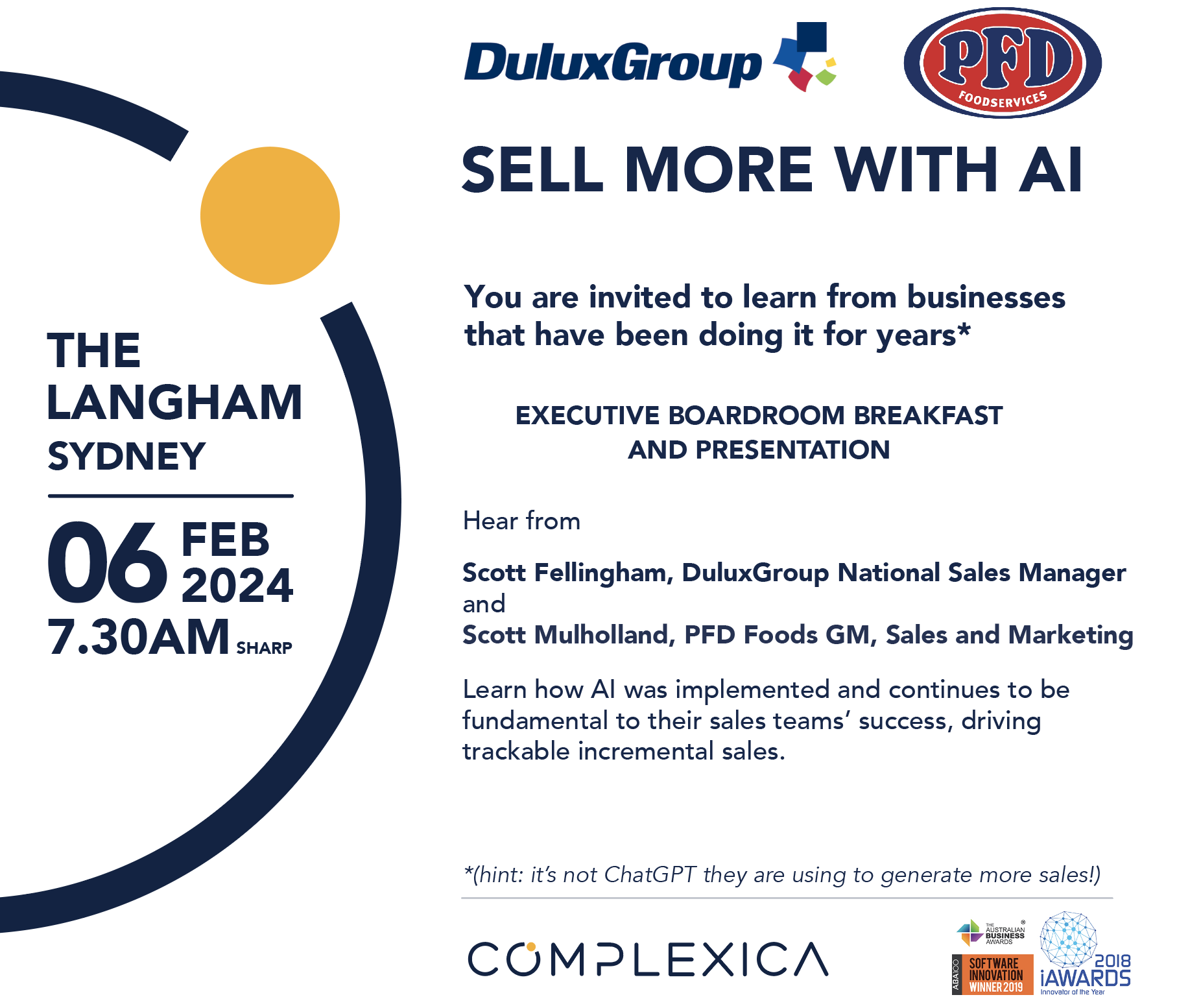 Learn how AI-driven software is improving revenue and margin outcomes for DuluxGroup and PFD Foods (and how it can help your sales teams sell more).
It's no secret that in the past few years, technology has been instrumental in changing the way we do business and shaping "the new normal".
But how can technology help your company thrive, make better decisions, and sustain profitability in the post-covid world?
Complexica, 2018 AiiA Innovator of the Year and 2019 ABA Software Innovator invites you to an à la carte breakfast experience and educational presentation. Enjoy the spectacular harbour views while listening to an educational presentation led by Matt Michalewicz, CEO of Complexica. You will hear from DuluxGroup and PFD Foods sales executives who will share their digital transformation journey and the outcomes their sales teams achieved using Complexica's AI for Sales tool.
The keynote presentation will provide examples of commercial applications of Artificial Intelligence. You will learn how Australian companies, including PFD Foods, Dulux, Haircare Group, Polyaire and others are using AI to unlock revenue, reduce churn, and increase share of wallet by generating personalised Next Best Conversations™ (NBCs). These NBCs help sales teams see more customers and sell more.
Hear from Scott Fellingham, National Sales Manager, DuluxGroup, and Scott Mulholland, PFD Foods GM, Sales and Marketing on their use of AI for the past 6 and 4 years. They will share some insights on how the sales systems were implemented and how they continue to be fundamental to sales team success driving trackable, incremental sales.
WHEN: Tuesday, 6 February 7:30am - 9.30am
WHERE: The Langham (Drawing Room) 89-113 Kent Street, Sydney
COST: Free (Registration by Invitation only).
The 2019 SkyNews interview on AI with Matt Michalewicz is as relevant today as ever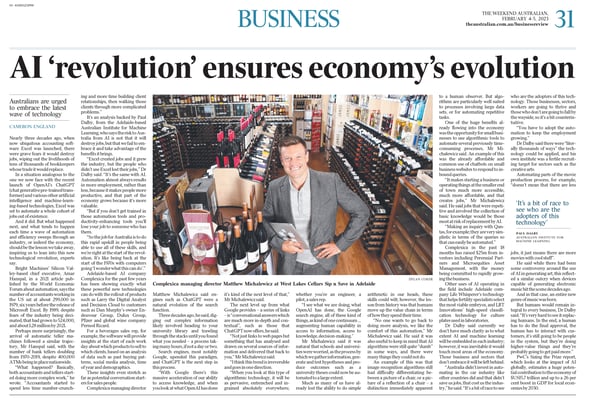 Matt Michalewicz has more than 25 years of experience in starting and running high-growth tech companies, especially in the areas of machine learning, predictive analytics, and decision optimisation. He is currently the CEO of Complexica, a provider of award-winning Artificial Intelligence software for optimising sales & marketing activities, and a director of several ASX-listed companies, including Prophecy International (ASX: PRO), ComOps (ASX: COM), and LBT Innovations (ASX: LBT). He is also the author of several books, including The Rise of Artificial Intelligence: Real-World Applications for Revenue and Margin Growth, Life in Half a Second, Winning Credibility, Puzzle-Based Learning, and Adaptive Business Intelligence. For more information, please visit: http://www.michalewicz.com.au/biography
Scott Fellingham
is a focused sales leader with a unique and diverse background across multiple categories within trade & retail. He is dedicated to building and delivering sales objectives, high performing teams, strong B2B strategies, and leading change in an evolving market. With over 30 years of industry experience, Scott is focused on working together in order to deliver solutions that are mutually beneficial to the customer and organisation.
Scott Mulholland
has over three decades of experience in sales leadership roles, Scott Mulholland has a proven track record of driving success and growth across diverse industries. His journey in leadership and management is characterised by his talent for building high-performing teams and fuelling organisational expansion. Scott's capacity to harness the power of technology and digital transformation to enhance sales teams' capabilities and achieve business outcomes is a testament to his innovative approach.
To register for the event, please fill out the form below: