Registrations are now closed
16 March 2023
EXECUTIVE BOARDROOM LUNCH AND PRESENTATION:
AI-driven Supply & Demand Planning, Sales and Price Promotion Optimisation
Learn how enterprise software based on Artificial Intelligence (AI) and Machine Learning (ML) is optimising business decisions, replacing home-grown spreadsheets and automating complex workflows and processes, improving revenue and margin outcomes across manufacturers, distributors, and retailers.
It's no secret that in the past few years, technology has been instrumental in changing the way we do business and shaping "the new normal".
But how can technology help your company thrive and make better decisions that reduce costs and sustain profitability in the post-covid world?
Complexica, 2018 AiiA Innovator of the Year and 2019 ABA Software Innovator invites you to a fine dining experience and educational presentation. Enjoy spectacular views of the city skyline from the 55th floor of Melbourne's Rialto building while listening to an educational presentation led by Matt Michalewicz, CEO of Complexica, speaker, author, innovator and 25-year veteran in the field of applied AI and digital transformation.
The presentation will provide examples of commercial applications of Artificial Intelligence: you will learn how Australian companies, including Metcash, PFD Foods, Asahi, Pfizer, Dulux, and Pernod Ricard are using AI to:
Produce optimised promotional plans and pricing strategies through advanced predictive capabilities for price elasticity, cannibalisation, and promotional planning

Reduce overheads, errors, and key staff risk by replacing home-grown spreadsheets and automating manual processes

Improve forecasting accuracy to optimise inventory levels for working capital and customer service metrics such as DIFOT

Optimise supply chain planning, scheduling, and S&OP activities to gain improvement in asset utilisation, service levels, and cost-to-serve metrics

Unlock revenue, reduce churn, and increase share of wallet by generating personalised Next Best Conversations™ for sales teams to deliver to customers and retailers
WHEN: Thursday, 16 March 12:15-14:00
WHERE: Vue de Monde, Rialto Towers, 525 Collins St, Melbourne
COST: Free (Registration by Invitation only).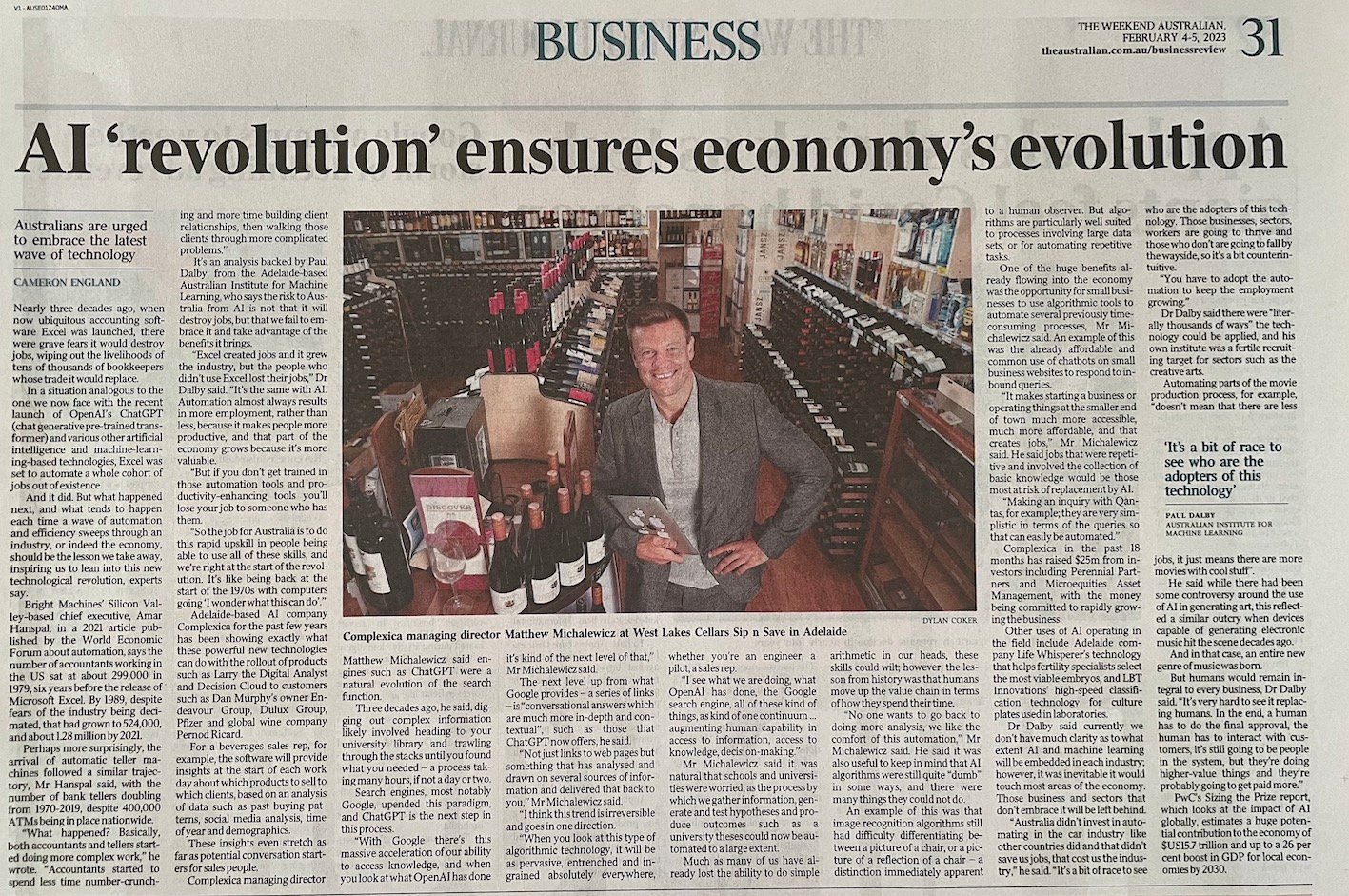 Matt Michalewicz has more than 25 years of experience in starting and running high-growth tech companies, especially in the areas of machine learning, predictive analytics, and decision optimisation. He is currently the CEO of Complexica, a provider of award-winning Artificial Intelligence software for optimising sales & marketing activities, and a director of several ASX-listed companies, including Prophecy International (ASX: PRO), ComOps (ASX: COM), and LBT Innovations (ASX: LBT). He is also the author of several books, including The Rise of Artificial Intelligence: Real-World Applications for Revenu and Margin Growth, Life in Half a Second, Winning Credibility, Puzzle-Based Learning, and Adaptive Business Intelligence. For more information, please visit: http://www.michalewicz.com.au/biography