Trade Promotion Optimisation is the second-largest item on the P&L behind cost of goods. Trade spending has tripled in the past two decades, globally, and some experts predict it will soon reach 40% of annual sales and, for many companies, will exceed the cost of goods sold.
Trade promotion is a high priority for Australian CPG and FMCG companies, with 25% of marketing spend allocated for trade promotion, while retailers run a hybrid EDLP (Everyday Low Price) & Promotional approach. In this complex landscape few companies understand what they get in return for their promotional spend and how to optimise their processes. Many businesses suffer from ineffective trade management with promotional campaigns turning into wasted efforts, failing to provide the desired ROI.
Adding to the complexity is the widespread use of home-grown spreadsheets and manual manipulation of data, making it difficult if not impossible to optimise promotional plans in a way that maximises Category growth and Product Penetration.
So, it is understandable that we see the common practice of taking last year's plan and tweaking it, without identifying ways to improve or optimise, and at times trying to force them to solve new problems.
To address this situation, we see many companies looking for software solutions to digitalise their workflows and optimise their promotions. There are two main components to that process, and (despite many vendor's claims) they are not the same, and are rarely executed by the same Software:
Trade Promotion Management (TPM) systems
Trade Promotion Optimization (TPO) systems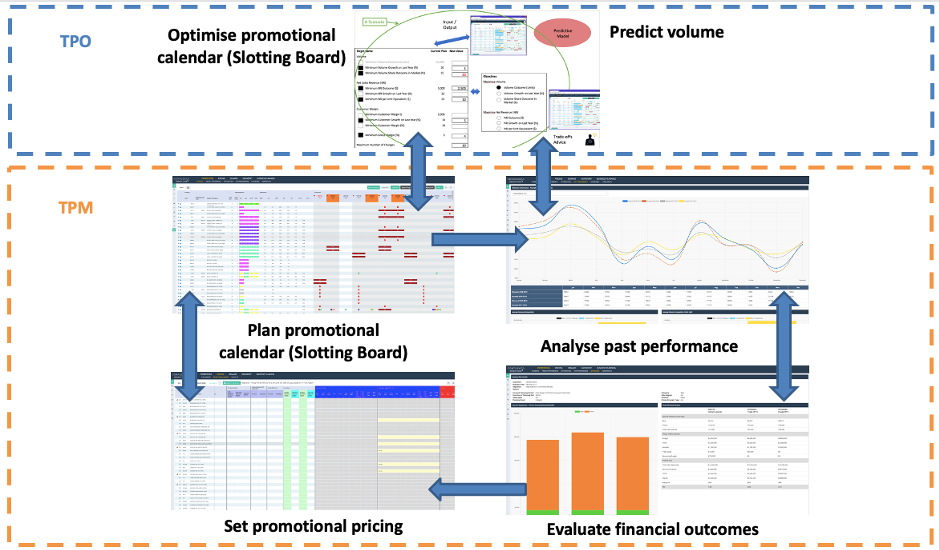 Trade Promotion Management (TPM) systems
For companies wanting to replace the home-grown spreadsheets and automate the labour-intensive processes for data loading and handling, customer planning and budgeting, TPM is usually the starting point.
TPM systems are used by a broad range of users (e.g. Merchandisers, Category teams, Trade Marketing, Strategy and customer finance) for the transactional workflows associated with planning, managing (funding, budgeting and reconciling promotions) and monitoring promotional activities in a more streamlined manner.
Being transactional at its core and including basic analytics, the key intent is not to completely address the challenge of missed returns and wasted efforts on bad promotions, although TPM does play a role in the workflow from the perspective of collating, reconciling and visualising the past performance results.
Trade Promotion Optimisation (TPO) systems
Trade promotion has a potential to increase sales but only with data-driven strategies in place. An IDG survey showed some large global manufacturers making a move beyond the basic trade promotion management tools towards achieving trade promotion optimisation (TPO), defined as the ability to run 'what if' simulations when planning promotional campaigns. This, the report said, was "now one of the strongest desires among larger companies".
Trade promotion optimisation (TPO) are sophisticated systems capable of advanced analytics (e.g. advanced price elasticity and cannibalisation modelling capabilities) to enable users to automate the exploration of a large number of what-if scenarios, running optimisation algorithms across a promotional program, whilst considering various constraints and objectives (e.g. trading terms constraints, market share objectives, promotional guardrails, supplier constraints, category growth objectives, etc)
A successful TPO can deliver a range of benefits including:
Reduced time and labour required for creating new promotional plans
Improved returns from optimised promotional plans
Increased market share
Stronger manufacturer-retailer relationship
TPO solutions extract data (both transactional data as well as Promotional Slotting Boards) from the TPM system to perform its workflow and then ingest back into TPM optimised promotion plans delivering the right mix of promotions that drive category growth and sustainable share. It is important to note that this is a process ridden with Science and complexity, and no two deployments are the same. The algorithmic techniques therefore need to be trained in each client's data and the various constraints/objectives used by the Optimiser (e.g. trading terms constraints, market share objectives, etc.) need to be configured to each Client's needs.
Complexica's Promotional Campaign Manager (PCM) application combines some of the essential features of both TPM and TPO. PCM, with its predictive and optimisation capabilities, provides practical decision support and both tactical and strategic management of trade spend.
To explore how our software can improve your promotional planning process and optimise your trade spend, please contact us
Learn why Lion Drinks selected Complexica's Promotional Campaign Manager for AI-driven Trade Promotion Optimisation
Discover why Metcash selected Complexica's Promotional Campaign Manager (PCM) to manage and optimise promotional planning for its 2,700 retail stores
Read how Liquor Marketing Group is increasing the promotional effectiveness and financial outcomes achieved by 1,400 retail stores