Complexica's Promotional Campaign Manager (PCM) is part of our Decision Cloud® software platform, and can help you bring science and automation into your trade spend and promotional planning workflows. Powered by Larry, the Digital Analyst®, Promotional Campaign Manager (PCM) uses internal and external data sets to produce optimised plans with the right mix of promotions that drive category growth and penetration.
Watch the supplementary video to Chapter 3 of the The Rise of Artificial Intelligence, which discusses promotional planning and pricing optimisation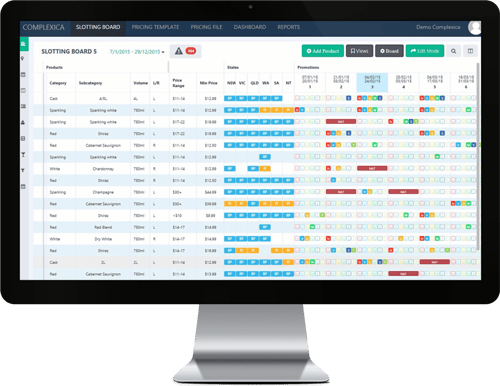 Based on sophisticated models that consider promotional lift, advanced price elasticity and cannibalisation modelling across segments, our robust and easy-to-use Promotional Campaign Manager (PCM) can help you:
Assess promotional effectiveness and move away from the common practice of taking last year's plan and tweaking it.
Enable what-if simulation

to automate the exploration of a large number of scenarios
Enable predictive capabilities to forecast and measure the value of plans based on volume, revenue, and margin predictions
Enable optimisation capabilities to

run optimisation algorithms across a promotional program, whilst considering various constraints and objectives (e.g. trading terms constraints, market share objectives, etc).

Automate data loading and manipulation and replace home-grown spreadsheets

with a cloud-based system that provides multi-user access to centralised slotting boards, forward plans, and dashboard analytics
DOWNLOAD PCM specification sheet
Complexica's PCM application combines essential features of both Trade Promotion Management (TPM) and Trade Promotion Optimisation (TPO) systems: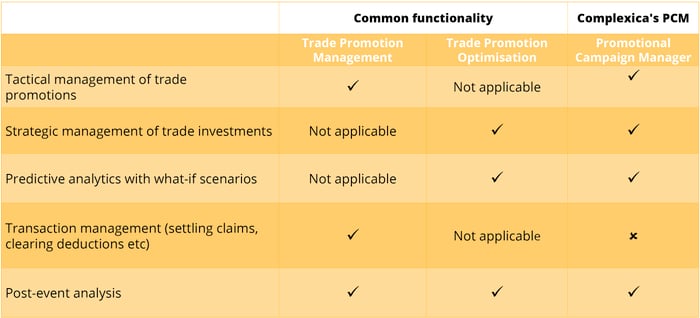 For companies wishing to replace the home-grown spreadsheets and automate the labour-intensive processes for data loading and handling, customer planning and budgeting, TPM is usually the starting point. For businesses wishing to strategically manage their trade investments and use what-if scenarios to find optimised promotions, TPO offers an additional level of sophistication.

TPM and TPO components can be deployed together as part of Complexica's Promotional Campaign Manager (PCM) or in isolation, depending on business requirements. A TPO-only deployment of PCM can extract data (both transactional data as well as promotional slotting boards) from an existing TPM system to perform the necessary what-if analysis and optimisation, and then push back into TPM optimised promotional plans that deliver the right mix category growth and sustainable share.
Customer success story: Australian Liquor Marketers
To explore how our software can improve your promotional planning process and optimise the return on promotional activities, please contact us
Learn why Lion Drinks selected Complexica's Promotional Campaign Manager for AI-driven Trade Promotion Optimisation
Discover why Metcash selected Complexica's Promotional Campaign Manager (PCM) to manage and optimise promotional planning for its 2,700 retail stores
Read how Liquor Marketing Group is increasing the promotional effectiveness and financial outcomes achieved by 1,400 retail stores
Learn how ALM/Metcash is building promotional programs that ensure the best possible outcomes for its retailers
Discover how Arnott's Group is optimising the value of future promotions