Good decisions create value – whether they're pricing decisions, marketing decisions, resource allocation decisions, or production decisions.
Poor decisions, on the other hand, destroy value.
The problem with making good decisions – particularly in complex and dynamic environments – is the daunting amount of data analysis that must be undertaken.
By the time it's done – if at all – the opportunity has usually expired. For this reason, business decisions are usually sub-optimal at best.
And the greater the operational scale and complexity, the more sub optimal they become.
Powered by the latest advances in Artificial Intelligence, Larry, the Digital Analyst® automates these complex analytical tasks and workflows, empowering staff across multiple business functions to make better & faster decisions.
Larry, the Digital Analyst® was named the 2018 Australian Innovation of the Year and 2019 Software Innovation of the Year, and powers our modularised software platform called Decision Cloud®: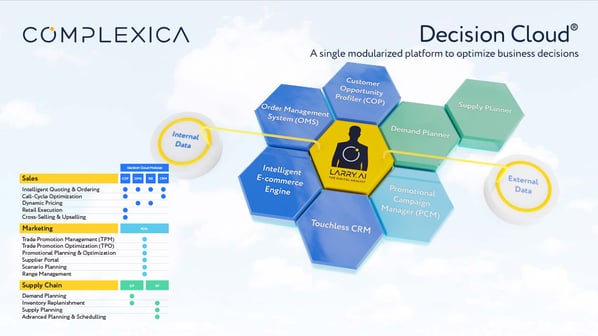 At its core, Larry, the Digital Analyst® is made up of a variety of smart algorithms, such as Bayesian networks, artificial neural networks, and genetic algorithms, among others. These algorithms perform certain tasks – such as data collection, augmentation, predictive modelling, trade-off analysis, optimisation, and so forth – to provide optimised decision recommendations to sales, marketing, & supply chain staff. When applied to sales & marketing activities, Larry can improve revenue & margin by directing sales staff to the best opportunities, along with recommendations on what conversations to have, what products to offer, and what price to quote. Larry can also optimise promotional planning, sales territory mapping, pricing & margin, as well as cross-selling, up-selling and churn prevention.
Larry, the Digital Analyst® is cloud-based and deployed through our Decision Cloud® for solving specific sales, marketing & supply chain challenges :