What are the odds that everyone in your organisation is making optimal decisions … each and every day … 261 working days per year? If the odds are slim, then what's the opportunity for improvement? What could be the impact on your revenue, margin, share of wallet, or customer engagement?
Complexica is in the business of helping companies make better decisions – whether they be strategic, operational, or tactical – through the automation of the complex analytical tasks that underpin the decision-making process. We believe that only decisions can create value – not reports, dashboards, insights, or business intelligence tools – only decisions. And the more optimal the decision, the more value is created.
The problem with making optimised decisions, however, is the daunting amount of data analysis that must be undertaken. To improve pricing, the effectiveness of promotional plans or trade-spend allocation, or to increase share of wallet through cross-selling activities, requires skilled people (analysts, data scientists, domain experts, etc.) to collect data and analyse it using the right tools – a process that's expensive in both time and labour. By the time the analysis is done, the opportunity has usually expired. For this reason, most business decisions are sub-optimal at best. And the greater the operational scale and complexity, the more sub optimal they become.
To address this challenge, Complexica has developed a fully-modularised software platform called Decision Cloud® that empowers staff across multiple business functions to make better decisions.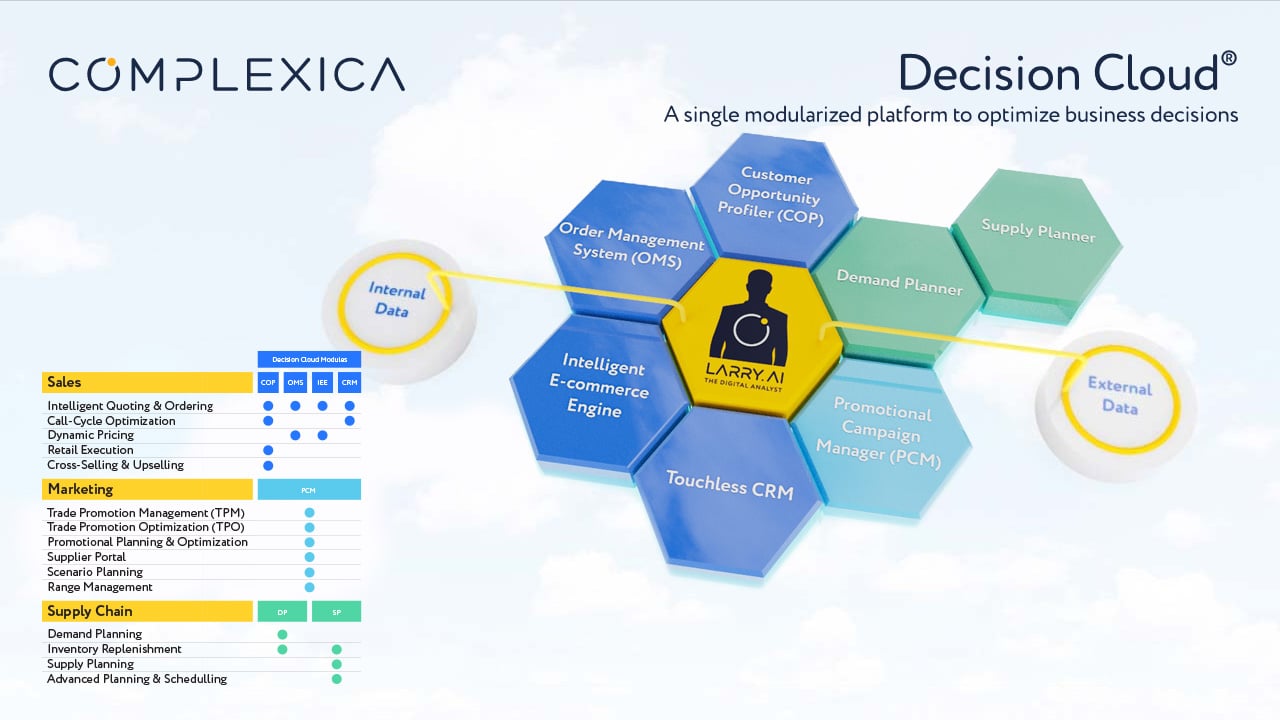 Decision Cloud® is powered by our award-winning Artificial Intelligence engine Larry, the Digital Analyst®, and can enable optimised decision-making across the following business functions:
Sales Optimisation
Marketing Optimisation
Supply Chain Optimisation
To learn more about what Artificial Intelligence is and how it works, please watch our introductory AI video: www.complexica.com/riseofai/chapter1
Please click here to download the company factsheet