Demand Planner | Supply and Demand Planning Software
Complexica's Supply & Demand Planner is part of our Decision Cloud® software platform and provides an integrated supply chain planning, scheduling, and optimisation environment for manufacturers, distributors, and retailers. Our Supply & Demand Planner employs Artificial Intelligence algorithms and advanced forecasting and optimisation techniques to provide supply chain staff with a holistic view of supply, production, logistics, and demand. From a business process perspective, the system considers capacity constraints and material availability to satisfy forecasted demand, while optimising for inventory levels, working capital, asset utilization, labour & maintenance schedules, as well as buffering for variabilities in lead times and manufacturing processes.
Powered by Larry, the Digital Analyst®, our Supply & Demand Planner can help you:
Minimize the risk of lost sales due to stock-outs, as well as write-downs due to inventory obsolescence
Readily adapt inventory to sudden changes in downstream demand or upstream supply
Optimise planning & scheduling activities,

especially in production environments that are heavily constrained or require multi-stage scheduling and frequent re-scheduling

Dynamically create plans & schedules that are optimised for cost, profit, utilisation, or customer-defined objectives (such as service levels, etc.)
Go beyond traditional MRP by replenishing using a number of best practice replenishment methodologies
Collaborate with customers and suppliers on forecasting, promotions, pricing and inventory replenishment through dedicated supplier and customer views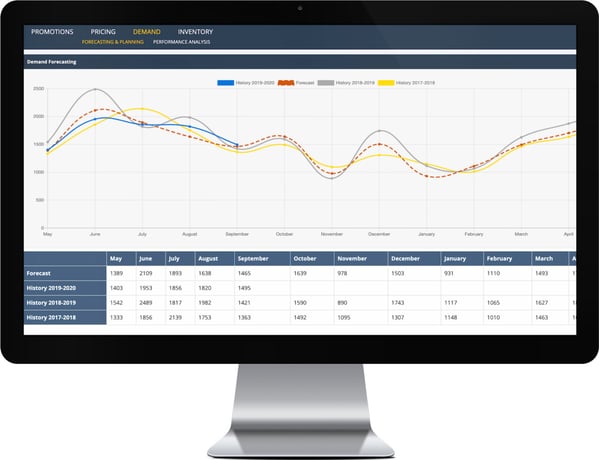 What are the risks of using inaccurate forecasts?
Lost sales due to stockouts and compromised services levels to customers, especially on measures such as DIFOT and fill rates
Low inventory stock turns
Stock obsolescence
Expedited shipping costs due to the wrong inventory being at the wrong place at the wrong time
Benefits of accurate demand forecasting
Optimised inventory (reduced stockouts and excess inventory)
Reduced time and effort involved in planning inventory and replenishment
Improved financial planning
Improved customer fill rate
Accurate and fast forecasting has never been so crucial to the bottom line as it is now, when product shortages, cost increases and changing customer preferences dictate a faster than ever reaction from demand planners.­­­
To explore how our Supply & Demand Planner can help you optimise your supply chain activities, please contact us
Learn how Pernod Ricard Winemakers is shifting towards Industry 4.0 by digitalising its operations and supply chain
Learn how PFD Foods automates and optimises its demand planning and replenishment activities
Discover why Pernod Ricard selected Complexica to globally optimise its supply chain operation
Read how Liquor Barons are planning to establish a best-in-class supplier experience through improved decision-making, promotional effectiveness and supplier collaboration