Complexica Pty Ltd, a leading provider of Artificial Intelligence (AI) software for supply & demand optimisation, announced today that Pernod Ricard Winemakers has achieved its first go-live with Complexica's Decision Cloud® software platform in Marlborough, New Zealand in what is Pernod Ricard Winemakers' largest global technology project. The deployment will support the company to digitalise processes, as well as optimise planning and scheduling activities. Pernod Ricard Winemakers plans further go-lives in Australia for finished goods planning and production scheduling, followed by Australian and Church Road winery operations, which forms part of a wider program of activity to enable the business to utilize technology to work faster, smarter and safer.
"Complexica's Decision Cloud will support our teams to plan ahead more effectively and precisely through state-of-the-art optimisation technology within the platform," said Brett McKinnon, Chief Operations Officer at Pernod Ricard Winemakers. "This is the first stage of a multi-year plan for digitalising our operations and supply chain to ensure we have a leading edge in the wine industry, which is in line with a global shift towards a range of advanced manufacturing technologies known as Industry 4.0."
"Our partnership with Complexica has been truly collaborative from start to finish. It is this approach, along with the right technology, the business' innovative mindset and willingness to take risks, which has enabled the success of this project," said Simon Bennett, IT Director at Pernod Ricard Winemakers.
"Optimising supply chain decisions across multiple operating sites and time horizons is a difficult and complex business problem, but one that can drive significant benefits in areas such as asset utilisation, volume throughput, quality, and working capital requirements," said Matt Michalewicz, CEO of Complexica. "Applying Artificial Intelligence software to such challenging problems is our core competency as a business, and we look forward to continuing our work with Pernod Ricard Winemakers to realise their end-state vision of optimised decision-making across their end-to-end supply chain."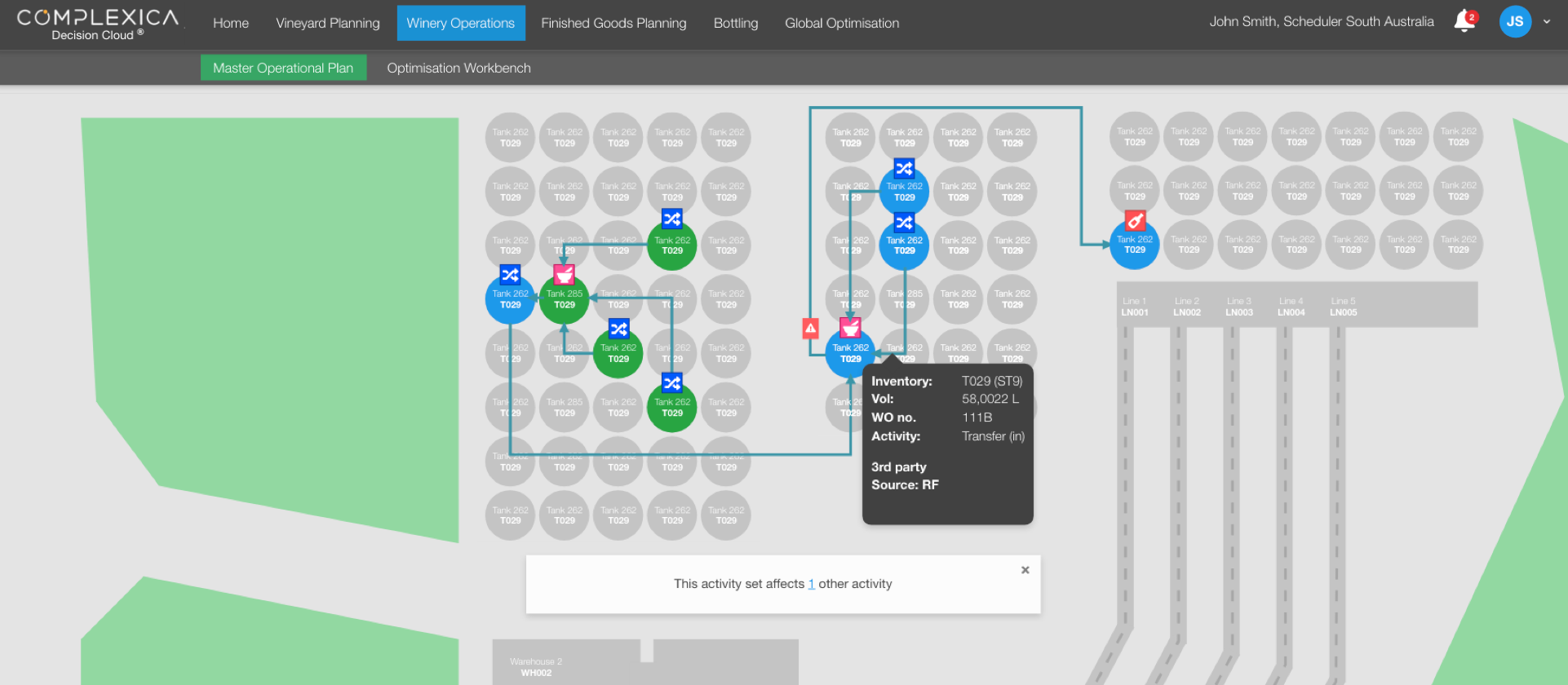 Pernod Ricard Winemakers is the premium wine division of Pernod Ricard and boasts one of the world's most diverse portfolios of premium wines such as Jacob's Creek in Australia, Brancott Estate in New Zealand, Campo Viejo from Spain and Kenwood Vineyards & Mumm Napa in California. Pernod Ricard Winemakers employs more than 1,700 people and sets the benchmark in winemaking through innovation, craftsmanship and authenticity. For more information please visit: www.pernod-ricard-winemakers.com