An ongoing challenge for modern-day demand planners and inventory managers is improving the accuracy of demand forecasts in order to simultaneously reduce stocks outs and working capital requirements. Besides the algorithmic challenge of minimising the forecast error, there is also the challenge of understanding and optimising the trade-off between working capital costs and service levels to customers. Most organisations manage this process through aggregated sales forecasts and subjective estimates, which are often based on home-grown spreadsheets and ad-hoc reports. This sub-optimal approach often results in:
High working capital requirements

Unrecoverable freight costs due to the wrong inventory being at the wrong place at the wrong time

Stock outs and reduced services levels to customers, especially on measures such as DIFOT

and fill rates

High forecast error

Manual handling and manipulation of data from a variety of sources, leading to data integrity issues and substantial time inefficiencies

Significant time, expertise, and labour required to analyse just a scenarios, making it impractical to conduct a comprehensive analysis to find a truly optimised replenishment plan or inventory allocation
Complexica can help you address these commonplace problems through our Supply Chain Optimisation & Planning Environment (SCOPE), which provides robust and easy-to-use demand planning, forecasting, analysis, and replenishment optimisation capabilities.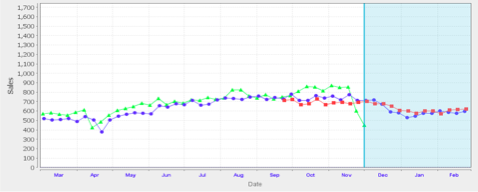 Based on advanced statistical models and machine learning techniques, Complexica can help your organisation move demand planning away from an anecdotal and "gut feel" approach, to a data-driven process. In particular, our Supply Chain Optimisation & Planning Environment (SCOPE) can help you:
Reduce the forecast error

associated with demand planning
Increase DIFOT

and service levels to customers

Improve stock turns

and decrease overall inventory levels
Improve reaction time and response

to unexpected events (e.g. sudden change in demand requiring additional inventory)
Automate manual processes

to eliminate human error and key man risk
Understand the impact of changes

in business rules and constraints (such as lead times, capacity constraints, required inventory levels, etc.)
Replace home-grown spreadsheets, which are often opaque and convoluted
Optimise and automate

the replenishment process across various time periods, product categories, lines, and individual SKUs
Understand customer sales trends

and patterns
To explore how Complexica can improve your demand planning process, please contact us