Complexica Pty Ltd, a leading provider of Artificial Intelligence software for supply & demand optimisation, announced today that the company's Chief Scientist, Dr. Zbigniew Michalewicz, has been named one of Australia's 50 Leading Researchers for his work in Evolutionary Computation. Dr. Zbigniew Michalewicz was also recently honoured with IEEE Lifetime Achievement Award for Artificial Intelligence Research, and named winner of the 2018 Science Excellence Awards in the category of STEM Professional (Science, Technology, Engineering and Mathematics).
Dr. Zbigniew Michalewicz has published more than 300 scientific papers in peer-reviewed journals during the past 30 years, along with many books, including the ground-breaking Genetic Algorithms + Data Structures = Evolution Programs, which was translated into many languages and cited more than 20,000 times in other journals, books, and publications. Zbigniew Michalewicz is one the world's most cited scientists in the area of Evolutionary Computation, according to Google Scholar, with more than 50,000 scientific citations.
With over 35 years of academic and industry experience across numerous Artificial Intelligence technologies, Dr. Zbigniew Michalewicz was the co-founder and Chief Scientist of NuTech Solutions, (which was acquired by Netezza, and subsequently by IBM), and later, the co-founder and Chief Scientist of SolveIT Software (which was acquired by Schneider Electric after becoming the 3rd fastest growing company in Australia). Both companies grew to approximately 200 employees before being acquired. He received this Ph.D. degree in Computer Science from the Polish Academy of Science, and his Doctor of Science (Habilitation) degree in Computer Science from the Polish Academy of Science. His research interests include Artificial Intelligence, data mining, predictive modelling, optimisation, logistics, big-data analytics, genetic algorithms, neural networks, fuzzy logic, and optimization. In December 2013, the President of Poland, Mr. Bronislaw Komorowski, awarded Zbigniew the Order of the Rebirth of Polish Polonia Restituta, which is the second highest Polish state award for a civilian (after the Order of the White Eagle ).
During his time in the corporate world, Zbigniew led numerous large-scale machine learning and optimization projects for major corporations, including Ford Motor Company, BHP Billiton, Pfizer, U.S. Department of Defence, and Bank of America. Zbigniew Michalewicz also served as the Chairman of the Technical Committee on Evolutionary Computation, and later as the Executive Vice President of IEEE Neural Network Council.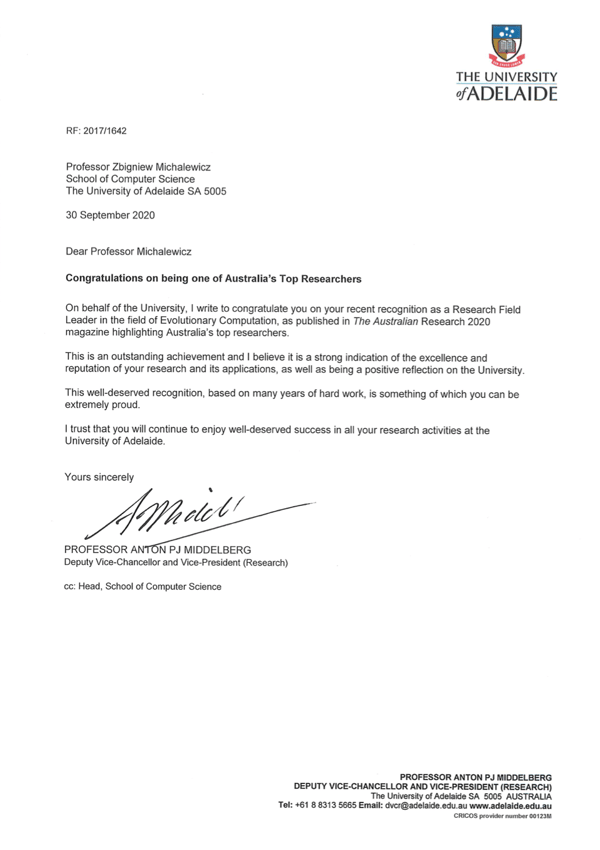 For more information on The Australian research field leaders, please click here