Complexica Pty Ltd, a leading provider of Artificial Intelligence software for supply & demand optimisation, announced today that Flinders Port Holdings (FPH) has made a $5 million investment into the company, as part of an overall $11 million equity round which included $3 million from existing investor and well-known fund manager, Microequities Asset Management (ASX:MAM). This round brings the total investment to $16 million since August 2021.
"This investment and collaboration with FPH will also enable Complexica to pursue development of next-generation software applications for ports globally, which will be AI and Machine Learning (ML) enabled, cloud-based, and based on Internet of Things (IoT) and Industry 4.0 concepts, said Matt Michalewicz, CEO of Complexica. "A new Ports & Logistics Division will also be established within Complexica, with a dedicated development and product team, as well as its own go-to-market strategy that will be readily available and executed globally."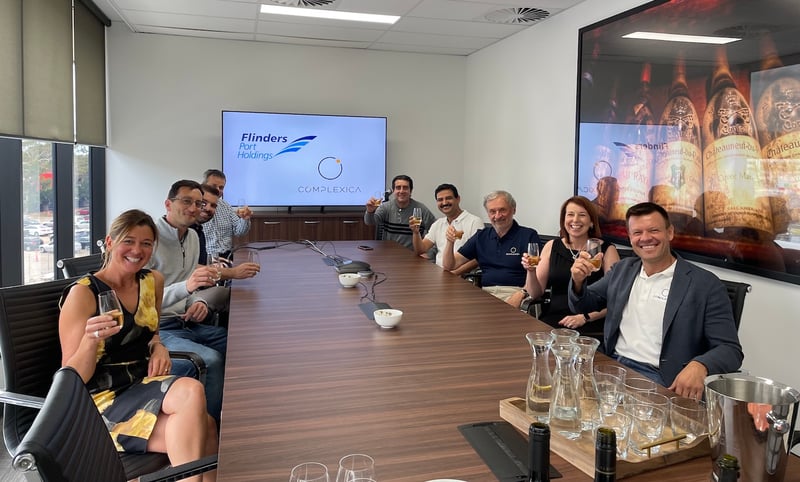 In addition to becoming a recent shareholder, Flinders Port Holdings is also an existing customer of Complexica. The two companies have been collaborating for the past two years on the development of a world-first use-case for Complexica's Artificial Intelligence software at the Flinders Adelaide Container Terminal to dynamically improve container movements through a 24/7 optimisation process. This strategic investment will enable both parties to further strengthen their collaboration.
"Flinders Port Holdings is committed to the provision of port infrastructure and related services that deliver safe, efficient and sustainable port operations for all South Australian importers and exporters. In the last year alone, we have invested over $26m across the state's ports. This investment builds on this commitment and enables us to ensure we have the digital as well as physical infrastructure in place to continue optimising our operations and drive value," said Keith Halifax, CFO of Flinders Port Holdings. "This partnership will enable us to work closely with Complexica and allow us to apply AI and machine learning technology across our business and develop the next generation of services for our customers."
Flinders Port Holdings is South Australia's leading port and logistics services provider with seven ports located at Port Adelaide, Port Lincoln, Port Pirie, Thevenard, Port Giles, Wallaroo and Klein Point. Other companies in the FPH group include Flinders Ports, Flinders Logistics, Flinders Adelaide Container Terminal, and Flinders Warehousing & Distribution. For more information, please visit www.flindersports.com.au
"We are delighted to see FPH join the register of Complexica via a strategic investment," said Carlos Gil, CEO of MAM and board member of Complexica. "Both FPH and Microequites' share a common vision that Complexica's software technology will drive productivity across various industries and FPH's expertise in ports and logistics will further assist Complexica deliver the best of breed AI platform in the market."
Microequities Asset Management has over $500m in funds under management from high net worth, wholesale and sophisticated investors. It invests long-term capital and has over $60m from its investment management team and directors co-invested alongside its clients. The investment in Complexica will be made via the "Private to Beyond the IPO Fund." For more information on Microequities Asset Management, please visit www.microequities.com.au/about-us
Earlier this year, Complexica was also named one of Australia's Top 20 tech companies by the Australian newspaper.