Microequities Asset Management has doubled down on its investment in supply and demand optimisation technology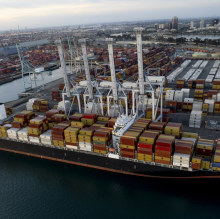 platform Complexica, backing the business in an $11 million round led by Flinders Port Holdings.The latest funding takes Complexica's total to $16 million since August. The company, which counts the likes of Arnott's Group, Metcash, Pfizer, DuluxGroup, Pernod Ricard and Lion as customers, will use the funds for software development, centred on the next generation of software for ports globally.
As part of the investment, the company will create a new port and logistics division, with a dedicated development and product team. Flinders Port has been a customer of Complexica's for two years, with the companies developing a world-first use-case for Complexica's AI software at the Flinders Adelaide Container Terminal to improve container movements. The business is South Australia's leading port and logistics services provider with seven ports located at Port Adelaide, Port Lincoln, Port Pirie, Thevenard, Port Giles, Wallaroo and Klein Point.
"In the last year alone, we have invested over $26 million across the state's ports," Flinders Port CFO Keith Halifax said. "This investment builds on this commitment and enables us to ensure we have the digital as well as physical infrastructure in place to continue optimising our operations and drive value."
To read the full story, please click here