Complexica Pty Ltd, a leading provider of Artificial Intelligence software for supply & demand optimisation, announced today that it has accepted an equity investment of $5 million from Microequities Asset Management (ASX:MAM) in a pre-IPO funding round. Microequities Asset Management has over $450m in funds under management from high net worth, wholesale and sophisticated investors. It invests long-term capital and has over $60m from its investment management team and directors co-invested alongside its clients. The investment in Complexica will be made via the "Private to Beyond the IPO Fund." For more information on Microequities Asset Management, please visit www.microequities.com.au/about-us
Under the terms of the agreement, Carlos Gil, CEO & Chief Investment Officer of Microequities, will join the board of directors of Complexica. "During our due diligence process we have been incredibly impressed with Complexica's technology and the validated value proposition it provides to its clients. We believe Complexica will become one of the reference Australian ASX listed technology companies over the next decade and Microequities wants to be a partner on that journey."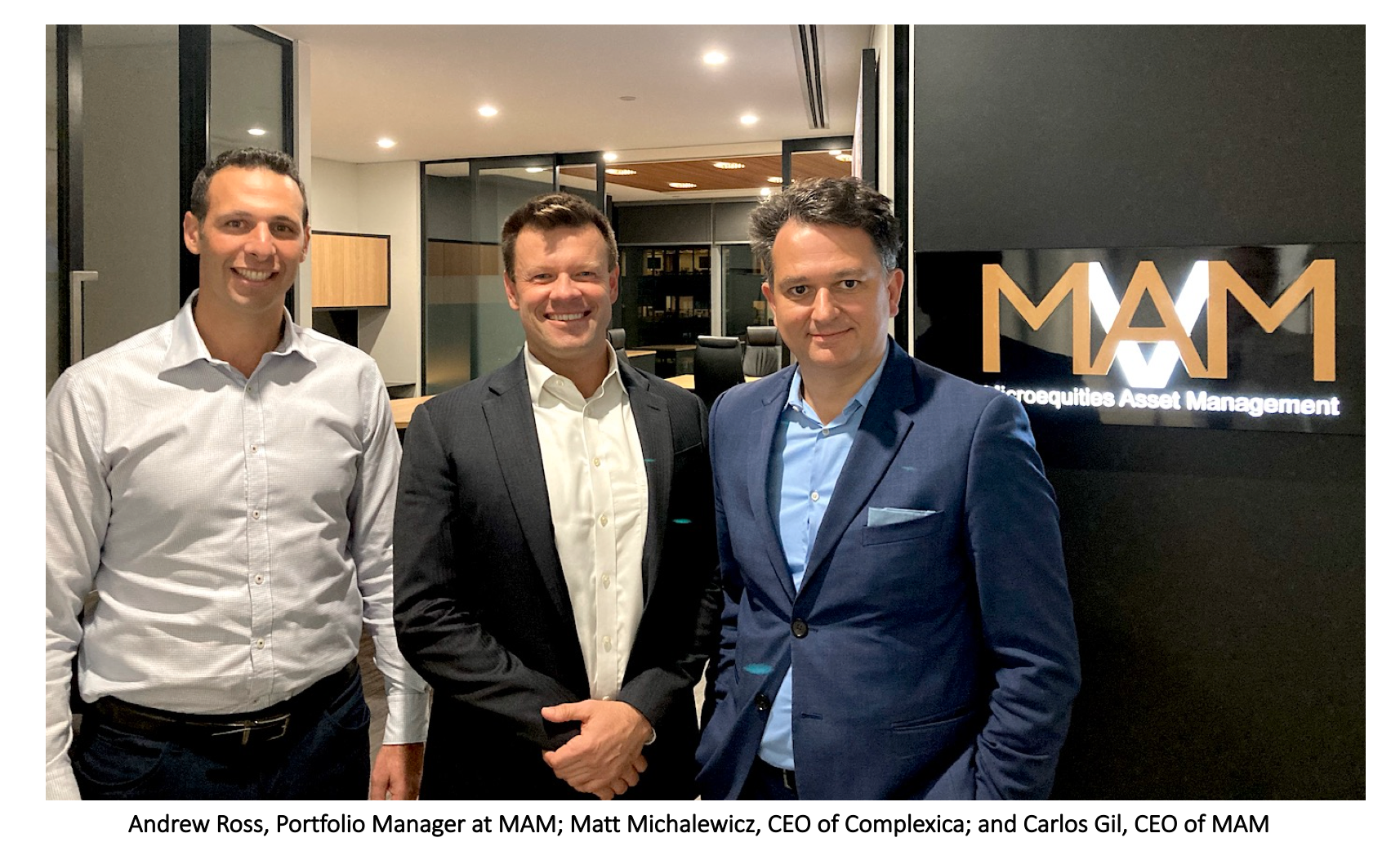 "The success of any business comes down to the partnerships it has formed and customers it has won, and we view our relationship with Microequities Asset Management as key and strategic to executing our business plan and realising our future growth potential," said Matt Michalewicz, CEO of Complexica. "We look forward to working with Carlos and the MAM team to advance Complexica towards an IPO and increase value for the many large customers that have selected Decision Cloud® as their enterprise platform of choice for optimising decisions and improving business performance."
"The timing of this investment from Microequities will allow Complexica to accelerate its expansion across several geographies and industries, including a new office in Sydney later this year and increased focus on the food and beverage industry," said Leo Arantes, Director, Business Development of Complexica. "Looking further out, we are excited about bringing forward our growth plans overseas, as well as increasing our investment into core industries such as big pharma and building materials."
Complexica provides AI-based software applications that optimise sales, marketing, and supply chain decisions, particularly for organisations characterised by a large SKU range and long tail of customers. The company was founded upon the research of several world-renown computer scientists, and has commercialised a modularised software platform called Decision Cloud® that empowers staff across multiple business functions to make better decisions. Decision Cloud® is powered by Complexica's Artificial Intelligence engine Larry, the Digital Analyst®, which was named the 2018 Australian Innovation of Year.
Complexica's customers include some of the most iconic brands in Australia, including DuluxGroup, Arnott's, Pernod Ricard, and Lion Drinks, among many others. Complexica has been recently named one of Australia's Top 20 Tech Companies, and the company's vision is to have offices in all major global cities and trade on the ASX stock exchange as a publicly-listed company that represents a major part of the Australian business landscape.
To read the story in The Australian, please click here