Complexica Pty Ltd, a leading provider of Artificial Intelligence (AI) software for supply & demand optimisation, announced today that is has appointed Harish Rao as Director of Applications Support and Security. Harish joins Complexica with two decades of IT experience across a number of industry sectors, including healthcare, insurance, telecom, and aviation. He is a tech-savvy, customer-focused senior IT professional with significant managerial, technical analysis and customer support expertise. In his role at Complexica, Harish will lead the application support and information security function to ensure a consistent customer experience, along with industry best practices around data security.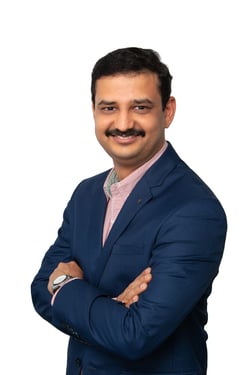 Harish started his tech career as a software developer and soon moved into the roles of Project Manager, Program Manager, and Agile Coach/Scrum Master. He also developed hands-on experience in developing and implementing application support using DevOps, continuous integration, and continuous testing. Prior to joining Complexica, Harish worked as a process consultant helping organisations improve their software development processes and tools. While living in Bangalore, he worked with the global teams spread across India, US and UK of several leading companies like NextGen Healthcare and Accenture Services. He has also actively participated in industry-standard quality certifications like CMMI level 5, ISO 9001-2000 and ISO 27001:2005.
"I'm thrilled to be joining Complexica during its current stage of expansion. It's an exciting time for the business, with many well-regarded brands deploying Decision Cloud® to optimise their decision making," said Harish Rao. "I look forward to applying my skills and experience at Complexica to strengthen support for existing customers and ensure best practices around information security."
Harish holds a degree of Master of Computer Applications along with industry-recognised certifications like Project Management Professional (PMP®), PMI-Agile Certified Practitioner (PMI-ACP®), ITIL V3 Foundation and Business Agility Foundations (ICA-BAF®). He is an active member in Adelaide Agile community, PMI Adelaide and Reinventing Work. He also loves cricket along with other sports like badminton and Formula 1, and likes exploring new places and food. He currently resides in Adelaide with his wife and a daughter.
"The Complexica management team welcomes the addition of Harish to lead our support and security function," said Matt Michalewicz, CEO of Complexica. "The last few months have seen a rapid expansion of our business, and before year-end we'll see many additional hires, customer announcements, and the relocation of our head office into a new purpose-built building, all of which will set up Complexica for greater growth in 2022 and beyond."
In other recent news, Complexica was named one of Australia's Top 20 Tech Companies, announced a $5 million investment from MAM in equity growth capital, and appointed a new Chief Financial Officer and Director of FMCG.