Complexica Pty Ltd, a leading provider of Artificial Intelligence software for optimising sales, marketing, and supply chain activities, announced today that it has structured its operations into vertically-integrated business units focused on specific market sectors and product segments. As part of the new organisational structure, Doug Misener has been promoted to the role of Managing Director of the Consumer Packaged Goods (CPG) business unit; Jon Wheeler has been promoted to the role of Managing Director of the Ports & Logistics business unit – into which the recent Wave Systems acquisitions will be integrated; and Mike Costa has been promoted to the role of Managing Director of the Supply Chain & Sales Enablement business unit. Each business unit will have its own head of sales, head of delivery, and head of product development, allowing the overall Complexica business to provide customers with increased focus on industry-specific solutions and products.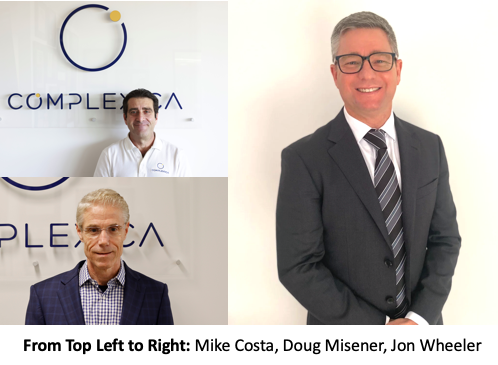 The Consumer Packaged Goods business unit will concentrate on the provision of Trade Promotion Management (TPM) and Trade Promotion Optimisation (TPO) solutions utilising Complexica's Artificial Intelligence Decision Cloud software platform. The core software modules enable end-to-end TPM & TPO functionality, providing real time analytics and management of all trade spend investments.
"'We are excited by the opportunity to focus exclusively on the Consumer Packaged Goods sector and to broaden our product offering and provide a compelling business proposition for customers of any size," said Doug Misener, Managing Director, CPG, "particularly at a time when so many consumer-facing businesses are looking for high-quality decision support to help provide a sustainable competitive advantage."
The Ports & Logistics business unit will offer comprehensive software platforms alongside expert professional services for ports, transport, and storage supply chain industries. Complexica's recent acquisition of Wave Systems – which brings many blue-chip enterprise customers into the fold such as Linfox, Toll, Aurizon, and Qube – is part of the strategy to accelerate the development and go-to-market speed of this business unit. Jon Wheeler, Managing Director of Ports & Logistics, commented: "This year and next will see our business unit grow exponentially in size and scale as we broaden our product and service offer. Our sights are firmly fixed on the optimisation of customer operations, enhancement of their operating efficiencies, and the achievement of significant cost savings within their supply chain networks."
The focus of the Supply Chain and Sales Enablement business unit will be Complexica's software products for optimising sales and supply chain activities, which have been deployed across numerous industries ranging from construction materials and pharmaceuticals, through to food distributors and agricultural companies.
"Our goal is to drive lasting digital change and business improvement for customers through the deployment of software systems that generate supply chain efficiencies in terms of throughput and cost of production, and improvements in sales effectiveness that lead to increased share of wallet, margin, and reduced churn," said Mike Costa, Managing Director, Supply Chain and Sales Enablement. "This is essential in today's age where businesses are affected both by supply chain disruptions and declining sales margins, and where many organisations are looking to leverage AI to transform traditional supply chain decisions and sales conversations into data-driven actions that will drive value and customer centricity. The Supply Chain & Sales Enablement business unit was created to help them on that journey."
Each managing director is supported by shared services provided for HR (headed by Sue Finch), Security & Support (headed by Harish Rao), Marketing (headed by Larisa Stamova), Finance (headed by Jon Drake), AI/ML Science (headed by Dr. Zbigniew Michalewicz), and Software Architecture (headed by Constantin Chiriac), with Matt Michalewicz continuing in the role of CEO and Stewart Lammin as Chairman of the board.
In other recent news, Compexica announced that Acorn Capital has invested $6.5 million into the company, pushing the total raised over $31 million during the past two years, and that the company has also completed the acquisition of Wave Systems in an all-cash deal, which has expanded its customer and technology footprint in the ports & logistics sector.