Complexica Pty Ltd, a leading provider of Artificial Intelligence software for optimising sales, marketing, and supply chain activities, announced today that it has acquired ports & logistics software vendor Wave Systems for an undisclosed amount. Wave Systems brings a multi-million dollar SaaS customer base to Complexica, which includes well-known, blue-chip organisations such as Aurizon, TGE, Toll, Linfox, and Qube Holdings, among others. In addition to bolstering Complexica's customer base within the ports & logistics sector, the acquisition will also increase Complexica's product footprint with a modularised software platform consisting of a Terminal Operating System, Transport Management System, Empty Container Park Management System, Rail Freight Management System, Warehouse Management System and Vehicle Booking System. With M&A being a strategic focus for Complexica, more than $31 million has been raised from well-known institutional investors during the past two years, including Acorn Capital, Perennial Partners, Microequities Asset Management (ASX: MAM), and MA Financial (ASX: MAF), as well as strategic investor and existing Complexica customer Flinders Ports Holdings.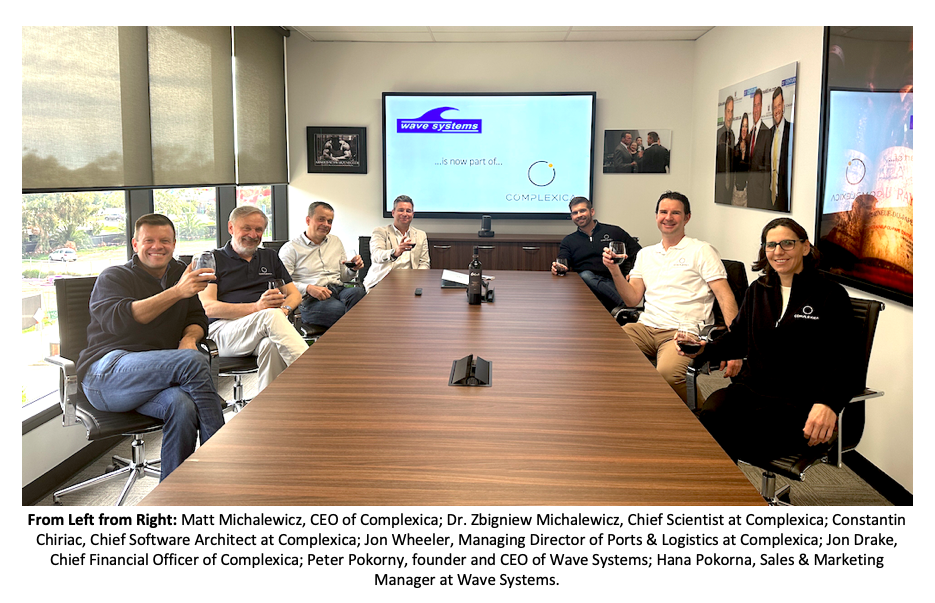 The acquisition of Wave Systems strengthens Complexica's Ports & Logistics business unit, enabling it to offer a comprehensive range of professional services and cutting-edge products for both greenfield and brownfield projects. Together, Wave Systems and Complexica will leverage their industry-specific expertise to develop AI-driven software solutions that optimise logistical operations through enhanced data visibility and advanced planning.
"Complexica embarks on an exciting new phase with the acquisition of Wave Systems, expanding our product portfolio within the ports & logistics supply chain and injecting our AI technology into Wave Systems products," said Jon Wheeler, Managing Director of the Ports & Logistics business unit of Complexica. "By synergising the expertise of the Wave Systems team with Complexica's professional services and AI teams, our shared objective is to enable optimisation, streamline operations, and drive cost savings for our valued customers. This endeavour not only enhances their P&L but also delivers positive outcomes for the broader supply chain community."
Matt Michalewicz, CEO of Complexica, added: "This exciting acquisition will allow Complexica to accelerate its go-to-market strategy within the ports and logistics sector by offering integrated, AI-driven products that optimise end-to-end operations. Customers partnering with Wave Systems and Complexica will gain real-time data visibility and insights, enabling them to manage their operations effectively and mitigate downstream issues. Whether optimising end-to-end operations or fostering B2B connected partnerships, stakeholders benefit from greater control over their supply chain, adaptive asset management, and improved responsiveness to variable demand."
"Complexica and Wave System recognise the expansion challenges faced by the ports and logistics industries – particularly in areas like rail freight, container yard storage, warehousing, and road haulage – and we share a common product vision for this sector," said Peter Pokorny, founder and CEO of Wave Systems. "To that end, we have already been working together for the past two years within our common customer, Flinders Ports Holdings, and look forward to continuing that strong collaborative relationship as we move forward as one business."
Since its establishment in 1999, Wave Systems has been at the forefront of developing software solutions for road, rail, and maritime transportation, and their comprehensive suite of modular products enables organisations within a supply chain to streamline their operations on a unified platform. Wave Systems' flexible and scalable architecture allows for both as Software-as-a-Service (SaaS) and On-Premise, allowing organisations to choose the deployment option that best suits their requirements. By offering lower total cost of ownership and rapid return on investment, Wave Systems empowers companies to enhance operational efficiency while maintaining data security. For more information, please visit: https://www.wavesystems.com.au/
With a shared commitment to innovation and customer success, Wave Systems and Complexica are poised to reshape the ports and logistics landscape by empowering customers to achieve unprecedented levels of operational excellence and drive sustainable growth.
To read the full story in the Australian, please click here