Complexica Pty Ltd, a leading provider of Artificial Intelligence software for supply & demand optimisation, announced today that it has been awarded a High Commendation in the Australian Supply Chain & Logistics Awards (ASCLA) 60th anniversary awards in the Supply Chain Management category.
The Supply Chain & Logistics Association of Australia has shortlisted Complexica's award submission titled "Complexica's Supply Chain Optimisation & Planning Environment (SCOPE) for the winemaking industry." Part of the Decision Cloud® platform, Complexica's Supply Chain Optimisation & Planning Environment (SCOPE) was developed to address many challenges present in various parts of the manufacturing and logistics supply chain. Complexica partnered with the global winemaker Pernod Ricard to unlock the value within its operational silos through the use of AI-enabled automation and optimisation, with the potential to unlock further value through "global optimisation" (i.e. whole-of-supply-chain optimised decision-making).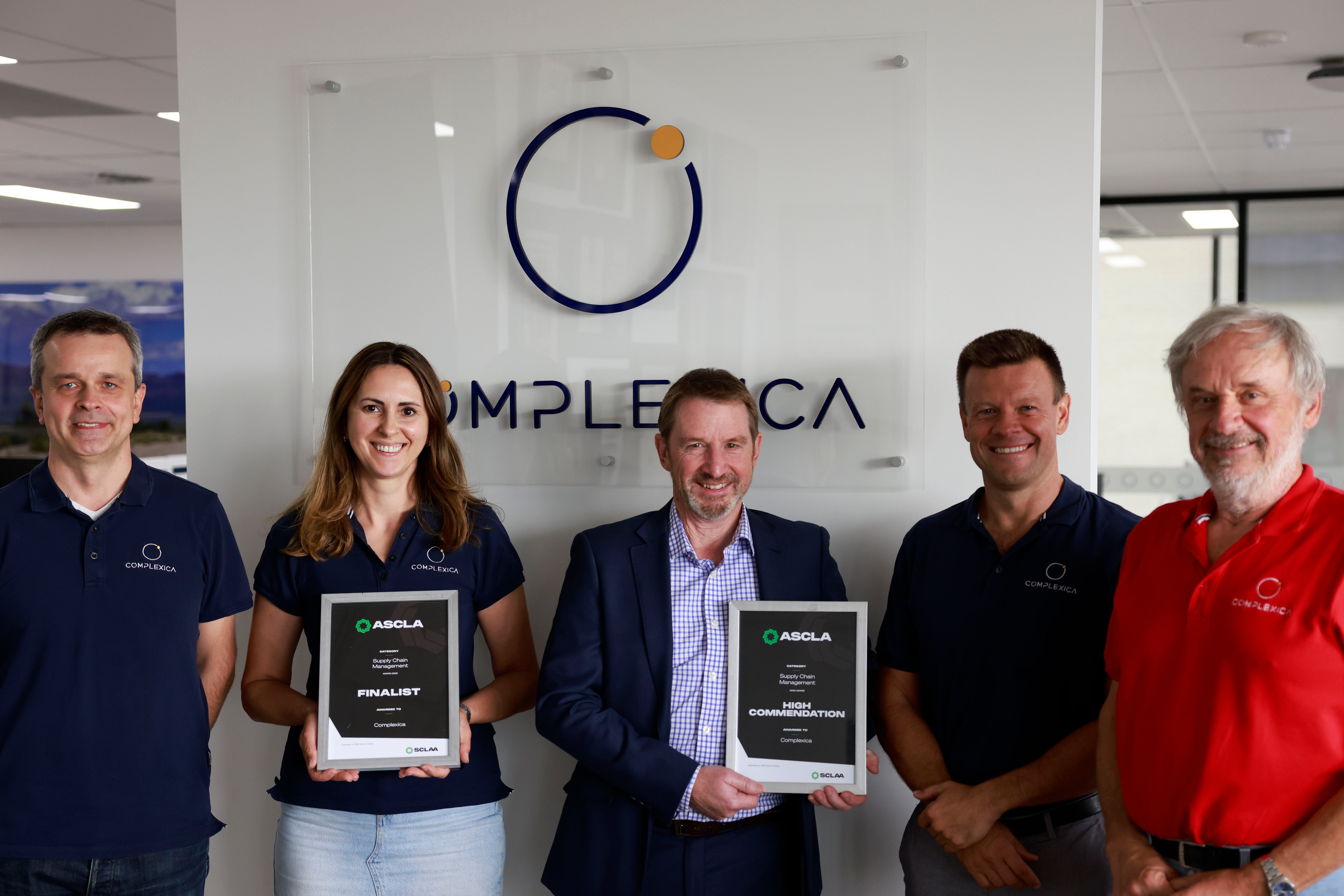 Sharing a proud moment with a customer - Complexica founders Matt Michalewicz, Zbigniew Michalewicz, and Constantin Chiriac with Stuart Bibby, Head of IT Solutions ‑ Wine & Viticulture Pernod Ricard, and Larisa Stamova, Complexica's Marketing Manager.
Winners of the Australian Supply Chain & Logistics Awards will be announced at the ASCL Award Gala Dinner to be held on Friday, 18th March at Crown Palladium, Melbourne. Having served the supply chain and logistics industry for 60 years, the ASCL Awards is the longest-running and most prestigious awards program in the industry. To see the full list of finalists please visit: https://sclaa.com.au/60th-ascl-awards-finalists-announced
Complexica has also been named a finalist for the Mercury Awards in the
Supply Chain Innovator of the Year category.
The Mercury Awards recognise companies' outstanding achievements and successes across the logistics, supply chain, and materials handling sectors. These Awards celebrate innovation across the supply chain industry and reward operations, teams, or individuals who are making a difference in the industry.
For a full list of award categories and finalists, please click
here.