Complexica Pty Ltd, a leading provider of Artificial Intelligence software for optimising sales, marketing, and supply chain activities, announced that it has received a "Highly Recommended" rating for customer satisfaction in the Computer Systems, Software & Internet Services category of the 2023 Australian Achiever Awards.
Now into its 26th year, the Australian Achiever Awards are an independent, unbiased award system based on assessment ratings from end customers of each business. The awards provide an indication of a well-run business where satisfied customers are a sign that the business is healthy and worthy of praise.The award system focuses on eight criteria, each scored separately, namely:
Time related service
Addressing client needs
Care and attention
Value and attitude
Communication
Overall perception
and referenceability
Each criteria is rated individually in percentage terms and the final score is an amalgam of these. A score above 80% overall is regarded as exceptional and reflects outstanding customer service. A complete list of all businesses who have achieved award status over the last few years can be viewed at https://www.achiever.com.au/results/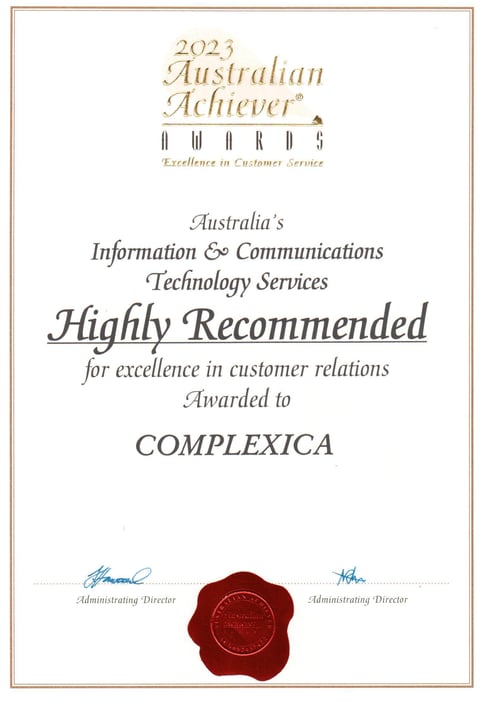 Some of the comments that Australian Achiever judging panel received from Complexica customers include:
"I like how Complexica is dedicated and the team looks after us. They talk things through and find solutions for us. Harish, the account manager, is excellent at project management and gets us together to keep the project ticking over. Mike, the general manager, keeps abreast of everything for us".
"Complexica is very good overall and a pleasure to work with. I am very happy with them. They provide open lines of communication and are honest and easy to deal with. Plus they stick to timelines and commitments".
"The team are fantastic to deal with. They work very closely with us to understand our business needs and to map out our future requirements. They are highly business-focused and tailor a personalised service that filters down through the organisation. I can happily say they are the best vendor we use".
"Complexica ensures they understand our processes well before committing to a project. they take time to see how we work and to know us personally. They are speedy in responding to queries. And they are very open to ideas and suggestions".
"We are delighted to receive this recognition from the Australian Achiever Awards, and it is a testament to the dedication and hard work of the Complexica team in delivering exceptional customer service. We take pride in tailoring our service to meet the specific needs of each client, and this award reinforces the value we place on understanding our customers' businesses and delivering measurable outcomes. We are grateful to our customers for their ongoing support and look forward to continuing to exceed their expectations in the future," said Mike Costa, Director of Delivery and Customer Success at Complexica.
Customers of Complexica include Asahi, Bunzl, Costa Group, DuluxGroup, Endeavour Group, Flinders Ports, LMG, Metcash, Pernod Ricard, and PFD Foods, among others.