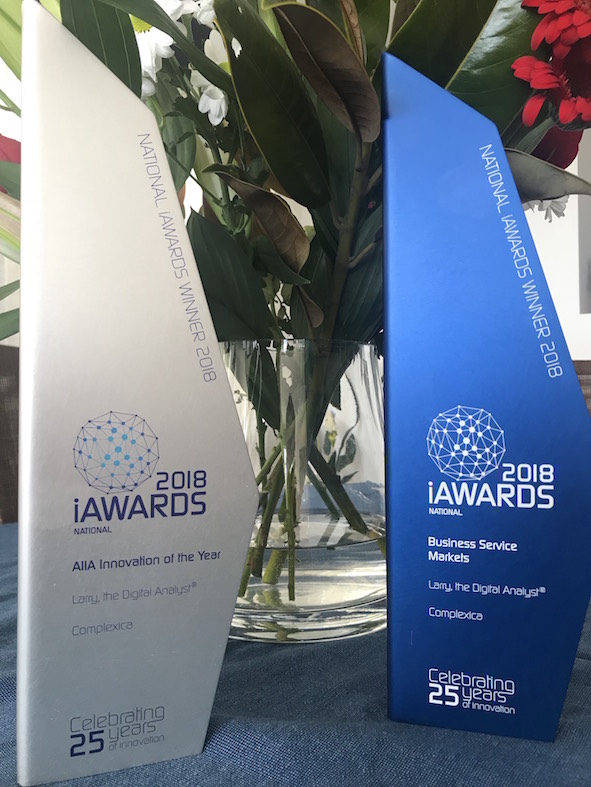 Complexica Pty Ltd, a leading provider of Artificial Intelligence software for optimising sales & marketing decisions, announced today that it has won the 2018 Australian "Innovation of the Year" award from the Australian Information Industry Association (AiiA) for the creation and commercialisation of Larry, the Digital Analyst®. The Innovation of the Year award is chosen from the Australian national iAward winners across all states and categories, and the award goes to the most outstanding innovation of 2018, as selected by the national iAwards Judges. At the gala awards dinner, Complexica was also named the national winner of the iAward for innovation within business markets.
"It's a great honour and tremendous privilege to receive this award," said Matt Michalewicz, Complexica's co-founder and CEO. "It's especially important recognition for all our technical staff that worked tirelessly for years on end to bring the idea of a digital analyst to market, and also recognition for our early customers, which backed Complexica and Larry, the Digital Analyst® when we were early in our development and commercialisation process."
Complexica's flagship product, Larry, the Digital Analyst® is an Artificial Intelligence software application that uses machine learning algorithms and large datasets to generate insights and optimised recommendations for sales & marketing staff. The result is an improvement in margin, revenue, and overall sales effectiveness, because Larry is able to provide end users with the answers they need, when they need them, on a fully automated basis. Complexica and Larry, the Digital Analyst® has been the recipient of many awards this year, including the iAward for Artificial Intelligence & Machine Learning and the Australian Business Award for CRM Innovation, and has signed several new customers, including most recently Metcash.
Read More